"Reborn" and "renascent" are frequently used to describe the Ukrainian Greek Catholic Church. While such adjectives may describe correctly the situation of the church in Ukraine since it resurfaced from the catacombs of the Soviet Union, they fail to describe the circumstances for the entire church, which has flourished in the Americas, Oceania and Western Europe for up to a century. No longer the faith community of a central European people, the Ukrainian Greek Catholic Church is a worldwide body bonded by tradition and perseverance.
Modern Ukrainians share the same origins as Belarussians, Carpatho-Rusyns and Russians, all of whom regard the realm of the Kievan Rus' as their own.
In the ninth century, the Varangians — a Scandinavian tribe known for their ferocity and piracy — swept into central Europe, settling among and intermarrying with the Eastern Slavic natives. Collectively called the Rus', they established towns along the Dnieper, Dniester and Don rivers, asserted control of the trade routes from the Baltic to the Black seas and developed uneasy commercial relations with Constantinople, the capital of the Christian Eastern Roman Empire, commonly known as Byzantium.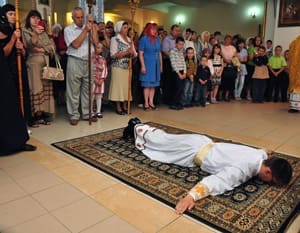 One such town, Kiev, became dominant and its leader took on the title of grand prince. The grand prince controlled the city and its surroundings, while Rusyn relatives scattered from Novgorod (a city near modern St. Petersburg) to Halych (now a town in southwestern Ukraine) swore him allegiance.
According to the 12th-century Rus' Chronicles, Grand Prince Vladimir I (956-1015), eager to abandon the polytheistic beliefs of his people, sent out emissaries to learn about Christianity, Judaism and Islam. But Christianity as practiced in Byzantium had the edge: Olga (879-969), Vladimir's grandmother, had embraced Christianity while in Constantinople. But Olga had failed to instruct her son or her people in the Byzantine Christian faith.
Another likely source for Vladimir's interest in Byzantine Christianity was the work of two missionary brothers, Cyril and Methodius. Charged by the patriarch of Constantinople to work among the Slavs of Moravia (862), the brothers created a Slavonic alphabet, translated scriptural works into Slavonic and introduced a Slavonic liturgy based on the Divine Liturgy of St. John Chrysostom. While the disciples of Sts. Cyril and Methodius were later banished from Moravia, they established Byzantine Christianity among the Southern Slavs and Bulgars of the Bulgarian kingdom. Buttressed by this church, the Bulgarian state developed into a powerful empire that rivaled Byzantium and Kiev.
Ultimately, it may have been Vladimir's interest in an alliance with Byzantium that led to his baptism in the Byzantine tradition. Yet the Rus' Chronicles credit the Divine Liturgy, as celebrated in Constantinople's Church of Hagia Sophia (Holy Wisdom), as the inspiration for Vladimir's acceptance in 988 of Byzantine Christianity: "We knew not whether we were in heaven or on earth," the annals record the emissaries as saying, "surely God dwells with the Greeks [as the Byzantines were known]."
Click here to read more.