The last century or so has not been kind to Armenia or its Catholic minority, who form the Armenian Catholic Church. Sharing the distinct rites and traditions of the Armenian Apostolic Church — while maintaining full communion with the bishop of Rome — this community of faith has contributed considerably to the vitality of the Armenian nation, invigorating monasticism, scholarship and social service even as terror has nearly destroyed it.
2015 marks the centenary of the beginning of the Armenian Genocide. Although large numbers of Assyro-Chaldean and Greek Christians also suffered deportation or death at the hands of agents of the crumbling Ottoman Turkish Empire, the sheer number of Armenians affected astounds. By 1923, as many as 1.5 million Armenians perished.
The perpetrators did not make distinctions between Apostolic and Catholic Armenians. Their actions, however, decimated the tiny Armenian Catholic Church. In all, 7 bishops, 130 priests, 47 women religious and up to a 100,000 faithful died. Churches and schools were leveled. And while the post-Ottoman Turkish government distanced itself from the atrocities, the state appropriated abandoned properties and redistributed them to Muslim Turks.
Some of those who survived fled to Russian-dominated Armenia. Most survivors, perhaps a quarter of a million people, fled to Lebanon and Syria. There, from their place of exile, they re-established their communities and prospered, that is until war in Syria revisited them.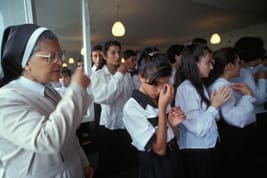 In 1928, surviving Armenian Catholic bishops gathered in Rome, where they agreed to transfer the patriarchate to Beirut. While historically the largest concentration of Armenian Catholics lived in Lebanon and in the Syrian cities of Aleppo, Damascus and Kamichlié, recent statistics provided by the church indicate upward of 400,000 Armenian Catholics living in Armenia, Georgia, Russia and Ukraine.
While the tsars impeded the development of all Eastern Catholic communities in Imperial Russian lands, the Soviets were more brutal. In the 1920's and 30's, Stalin suppressed all Eastern Catholic churches. In Armenia and Georgia, party members shuttered Armenian Catholic village churches, arrested and shot parish priests and deported religious sisters. The Soviets wiped out all traces of Armenian Catholicism — or so they thought.
Catholic Armenians began to surface after a devastating earthquake in December 1988 flattened northern Armenia. And as the Soviet Union dissolved, these Catholics boldly petitioned for their churches to be reopened and for personnel to staff them.
The Armenian Sisters of the Immaculate Conception were among the first to respond, sending a team of sisters to work with families and village communities in northern Armenia and southern Georgia. And in 1991, the Holy See created a bishopric for Armenian Catholics in Eastern Europe, but the church is hampered by a lack of priestly vocations. Despite considerable resource shortages, however, the Armenian Catholic Church administers schools, camps and social service centers that offer help to all.
Read a full account of the Armenian Catholic Church from ONE magazine here.