Editors' note: Amid all of the reports coming out of Ethiopia about conflict is a story that doesn't make the headlines, but that Maria Gerth-Niculescu brings to us from the field about young Ethiopians learning to be builders of peace and fraternity. Listen to her impressions of some of the young adults she interviewed for her feature article, "Hope for a Country at War," in the audio clip below. A full transcript follows.
When we arrived at the parish in Emdibir — this is located in the Gurage zone of Ethiopia — the compound was silent except for a distant and soft chant, which as we soon realized was coming from inside the building.
The students who were attending the weekend program before resuming university were about to go on a break and were singing religious songs in Amharic — this is main language spoken in Ethiopia — to conclude the morning session, and there was a sense of peace to the scene.
And yet when talking later one-on-one to some of the students, I realized that many of them were very much scarred by the ongoing conflict in Ethiopia. Some didn't even know when they would be able to resume their university classes, but all of them did strongly express their wish to finish their university and to get their degree.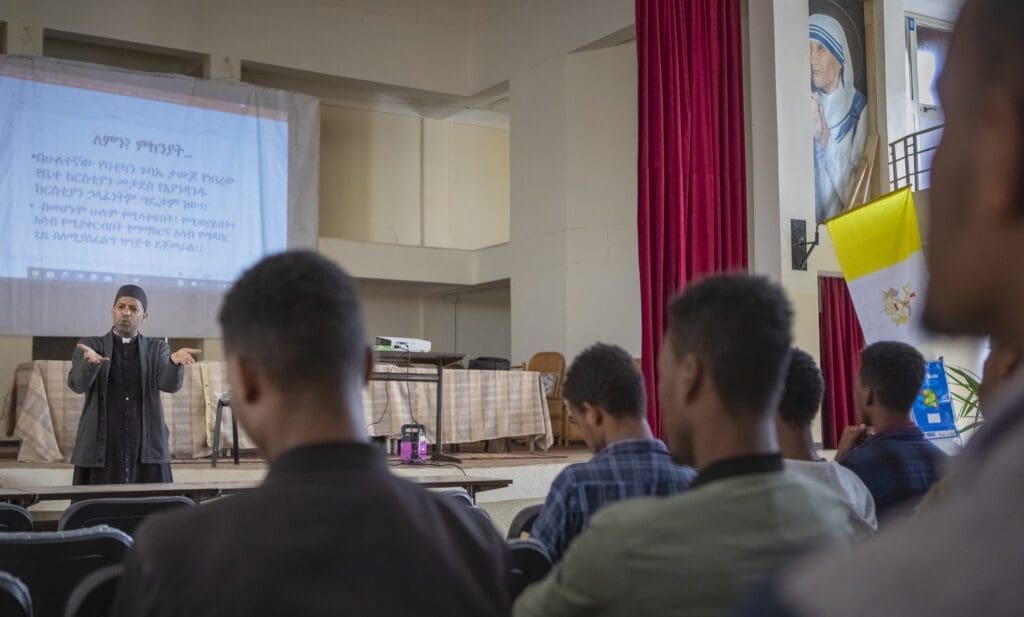 And what marked me most in Emdibir, I think, was the testimony of Ermias — the student who was stuck at Aksum University in Tigray for several months, far from home, without being able to get in touch with his family. And, at the end of the interview, he said that he was ultimately happy that he went through that experience because it gave him firsthand proof that war can only lead to destruction, only lead to suffering.
Knowledge he seemed also determined to spread around him. He didn't dwell much on his hardships during the interview, although he did go through a lot, but he focused on what he had learned from this challenge. And I found this incredibly courageous and mature for such a young man.
All in all, gathering testimonies and insights to write the story was an opportunity to witness firsthand that Ethiopia is very much far from being only division, only a political rivalry. But it also showed that much has yet to be done, to give young Ethiopians the tools to put into words, put into practice, the prospects of peace that they so much wish to implement for Ethiopia.
---
Maria Gerth-Niculescu is a freelance journalist based in Addis Ababa, Ethiopia. She has worked for France 24 and Deutsche Welle.