Sunlight with the strength of a summer's day beams through the windows, bounces off the yellow walls and illuminates Sister Anna Drozd. The March brightness appears juxtaposed as she reflects on the heavy emotional toll of the past month for Eastern Europe.
"What I went through during those five days is as much as normally would happen in five months," she says, recalling the beginning of Russia's war on Ukraine and the unprecedented humanitarian crisis triggered when millions of people fled into neighboring Poland.
"During the first day it was difficult to even comprehend it all, because it would make me cry. I was just trying to focus on what I needed to do," says Sister Anna, a member of the Sisters Servants of Mary Immaculate.
The Sisters Servants of Mary Immaculate, a congregation of Ukrainian Greek Catholic religious women in Przemyśl, Poland, have been rushed off their feet welcoming mothers, children, the elderly and infirm to their center.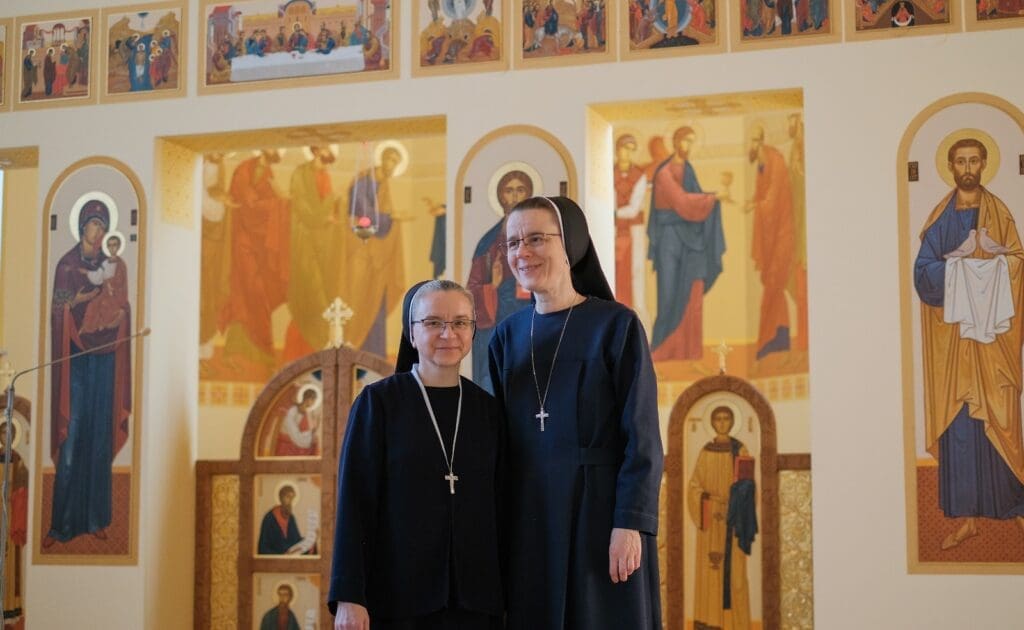 The current refugee crisis has been described as the biggest in Europe since World War II, and Poland has been at the core of relief efforts as more than 2 million refugees from Ukraine have arrived seeking safety.
Przemyśl, a city of 60,000 in southeastern Poland, has become a major transit point for refugees since the start of Russia's invasion on 24 February. Just five miles from the Ukrainian border, the sudden mass movement of people meant locals had to organize food, toiletries and clothes, as well as makeshift beds, rapidly.
From local government authorities to Boy Scouts, ordinary citizens and international aid groups, such as Caritas, there has been a huge array of first responders in Poland.
Community service is woven into the fabric of daily life in the church, and the 1,000 worshipers of the Ukrainian Greek Catholic Archeparchy of Przemyśl–Warsaw, have been rushing to meet the pastoral and spiritual needs of refugees.
CNEWA is supporting the efforts in the archeparchy — one of CNEWA's primary partners in Central Europe in assisting with the humanitarian crisis — as part of an initial $1-million disbursement in aid of the refugees and displaced persons in the region.
"The monastery of Basilian monks opened to refugees and the convent of nuns here also opened," explains Archbishop Eugeniusz Popowicz, speaking from his office adjacent to the 17th-century Ukrainian Greek Catholic Cathedral of St. John the Baptist of the archeparchy.
Local parish priests were dispatched to refugee reception centers to offer support, while seminary students from Lublin were sent to greet new arrivals at Przemyśl railway station, the first stop in Poland for trains coming from Lviv, western Ukraine. It has been one of the busiest arrival points, receiving 20,000 refugees each day at its peak.
Lenten services are raising money for Caritas Poland, who then distribute funds back to the church, as well as help finance their major humanitarian aid work across the country.
Yet despite the enormous round-the-clock efforts, it has been challenging to keep up with the evolving nature of the displaced.
"The first people who came, they had families in Europe or a place to go, to family friends, for example," Archbishop Popowicz says.
But as Russian attacks intensified, Ukrainians, who chose not to flee their homes or who lacked the financial means to escape, have been forced out and many are leaving their country for the first time.
"The biggest tragedy now is to help and accommodate people who are coming and who have no place to go," he says.
One of the institutions attempting to meet such needs is the Rehabilitation Center of Blessed Josefa, a 72-room care home for the elderly and disabled, run by Sister Anna, alongside 10 sisters of the Blessed Virgin Mary.
Only a few weeks ago, Sister Anna was carrying out her daily business, arranging the matters of the house. Now, she is getting by on five hours sleep a night and caring for traumatized mothers and children, disabled children and their parents, and recovering sick people, who stay in the 10 spare rooms.
"Not long ago, a woman came here that could barely stand on her feet," Sister Anna says. "She was exhausted from the long journey and from the weight of carrying her baby all the time."
Thanks to the deep pastoral and spiritual care of the sisters, huge improvements have been witnessed among the center's new residents; children have begun smiling and playing again, Sister Anna says.
"People here feel safe; they don't have to sleep in their clothes, they don't have to hear air raid sirens or go underground to bomb shelters," she adds.
Although, Sister Anna worries for the refugees who hope to stay for a while. Finding long-term accommodation for refugees is one of the major problems beginning to surface in Poland's response."I don't know what our long-term plan is," Archbishop Popowicz admits, with a long sigh. "I hope the war will be finished and the majority of people able to return home; it is the best place for them."
To support CNEWA's program for displaced Ukrainians, go to: https://cnewa.org/campaigns/ukraine/
---
Rosabel Crean is a British freelance journalist reporting from Poland.