Continuing his pastoral visit to the Caucasus, CNEWA's president, Msgr. Peter I. Vaccari, arrived in the Georgian capital of Tbilisi earlier this week, finding the city paralyzed by traffic and overwhelmed by Russians fleeing the "partial mobilization" of men ordered by the president of the Russian Federation.
"Can you imagine," said Caritas Georgia's operations manager, Nino Charkhalashvili, "Tbilisi always has traffic, but now with all the Russians here, almost 40,000 with cars, and our city can't absorb them. We have traffic jams now at 8 in the morning!"
Life in the capital normally does not begin until 9 or even 10 in the morning.
Worse than the traffic, however, is the very real fear that this small nation squeezed between Asia and Europe cannot sustain the hundreds of thousands of political refugees from Russia who now clamor for entry into the one country left that will receive them without a visa.
"Rents and cost of goods are now skyrocketing," said Chorbishop Benyamin Beth Yadgar, the pastor of Georgia's small Assyro-Chaldean community. "And there is a shortage of materials and trained workers.
"For example, I am waiting for the return of my plumber, who is in Poland," he said, showing Msgr. Vaccari the progress of a community center currently under construction in the town of Gardabani, located about 21 miles southeast of Tbilisi.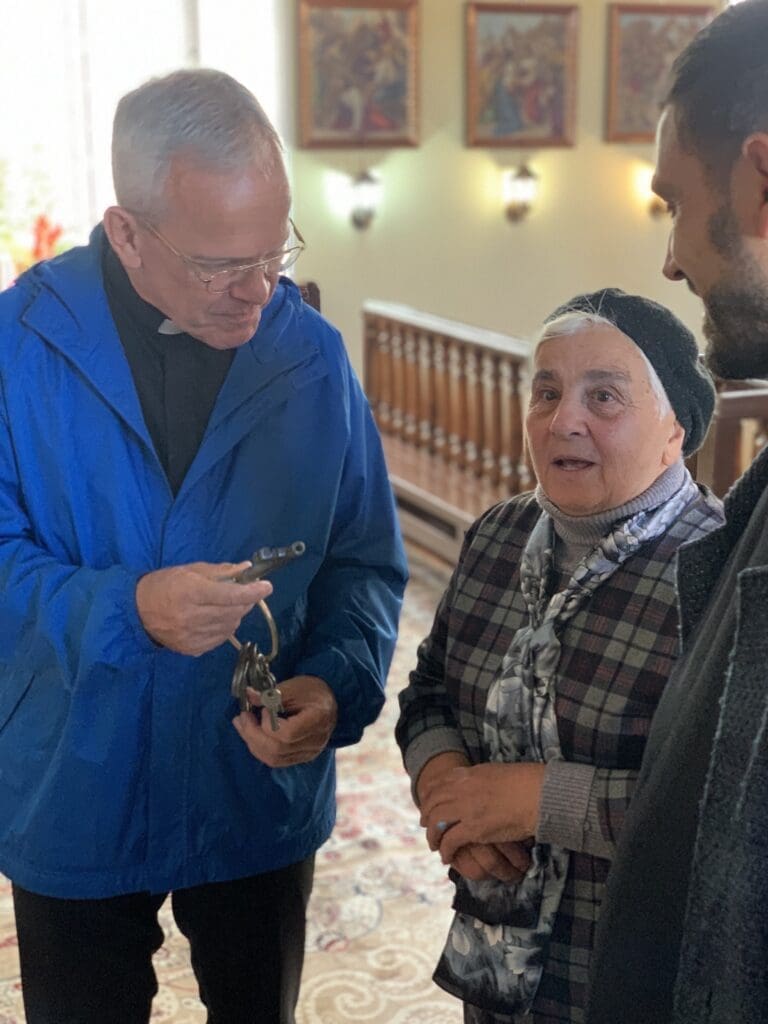 As with the Assyro-Chaldean community center in the capital — a thriving hub that features a beautiful church, auditorium, workshops, classrooms and offices — this new facility will provide the town's Assyro-Chaldean community, descendants of refugees fleeing the genocide in the Ottoman Empire during World War I, with a gathering place to pray, study and mingle. Most of the town's inhabitants are ethnic Azerbaijanis, many of whom follow a strict form of Islam.
Yet the priest explains — interrupted by a greeting from an Azerbaijani neighbor — despite the lack of movie theaters, restaurants and other forms of public entertainment, the diverse community not only coexists, but each night gathers and socializes on its streets, "similar to the passeggiata in Italian communities," he said of the Italian custom of the daily evening stroll through the town square.
Georgia's large Armenian community, however, does not quite have the same friendly relationships with Azerbaijanis as some Georgians. While reasonably safe in Georgia, they fear keenly for their Armenian kin just south of here, fearing their small landlocked republic — now under siege by their Azerbaijani enemies who are equipped with superior weapons from Turkey and elsewhere — will be strangled. For Armenians everywhere, the Azerbaijani conflict is visceral, real and existential.
Msgr. Vaccari, accompanied by a small CNEWA delegation, traveled from Tbilisi to the country's southwest region of Samtskhe–Javakheti, where thanks to its donors, CNEWA has provided considerable assistance to the area's large Armenian community, which makes up about 80 percent of the population.
Located within eyesight of the Turkish border, Msgr. Vaccari joined Armenian Catholic villagers in Eshtia and Skhvilisi for Divine Liturgy and morning prayer.
"Seeing these simple yet beautiful churches, all built in the 19th century by Armenians fleeing the pogroms of the Ottoman Turks, brought home powerfully how real the mass murder of a people based on their ethnicity and faith remains," said Msgr. Vaccari. "How urgent it is that we as Christians must press for dialogue, seek justice and commit ourselves to the quest for peace."
Pressed between Russia's war on Ukraine, Azerbaijan's invasion of Armenia and the conflicts in the nearby central Asian republics of Tajikistan-Kyrgyzstan, Georgia is at a crossroads, as are the churches — Armenian, Assyro-Chaldean and Roman Catholic and Georgian Orthodox — which serve its diverse peoples.
---
Author Michael J.L. La Civita, CNEWA's director of communications, is traveling with Msgr. Peter Vaccari and Thomas Varghese, CNEWA's director of programs, through Armenia and Georgia.