Every morning I go to CAPNI's headquarters, where 40 people we call the "CAPNI family" work together — a Christian family of diverse denominations and skills — at different tasks, but sharing one mission begun in 1993 by a group of volunteers committed to a challenging mission: to keep hope alive.
I greet my beloved members of the CAPNI family and, after being assured of the health of each one, we exchange on the day's tasks in order to carry out our mission.
CAPNI began small, like the mustard seed, and has grown into the largest Christian humanitarian organization in Kurdistan today in terms of its structure, mission territory and diversity of programs and services. This work is for all of society to witness the love of Christ for all. And as an ecumenical organization, CAPNI serves all vulnerable communities, including internally displaced people, from all religious backgrounds — Christian, Muslim and Yazidi.
The city of Duhok in Iraqi Kurdistan continues to host more than 300,000 people who fled Sinjar and the Nineveh Plain in 2014 due to the brutal violence of ISIS. In Duhok and among its people, they found a warm embrace, security, safety and hope.
Duhok today is neither the Duhok before ISIS nor the Duhok before the COVID-19 pandemic.
Life challenges have increased and changed. Displaced persons have exhausted their resources and humanitarian organizations have curtailed their activities and assistance.
The host community has grown increasingly vulnerable with the fiscal crisis in the region, the economic recession and the limited labor market.
A question we hear in our daily interactions with beneficiaries and on our visits with displaced persons and others resonates with me and with the other members of the CAPNI staff: "Is there any hope?"
The answer is for sure a big "Yes!"
Hope exists and is alive, and we witness it every day. Hope for CAPNI affiliates and program partners is not just an emotion. It is put into action in day-to-day life.
Hope is more than a nice sermon. It cannot be sown and enhanced through words alone. It must be materialized. It must be tangible. People must be able to touch hope. This is our challenge and our mission.
It is true we may feel helpless sometimes, but never hopeless.
We give hope to children, displaced from their hometowns for the past seven years and housed in five centers. Each center hosts 120 children of different faiths, between the ages of 6 and 12. The centers provide them with academic classes, as well as sports, music and art activities. The children are taken on outings to archaeological and religious sites and offered other recreational activities to restore their lost smiles.
We also give hope through a mobile clinic that makes regular visits to more than 30 isolated Christian villages in remote mountainous areas. The mobile clinic provides treatment to those in need, especially the elderly with chronic diseases.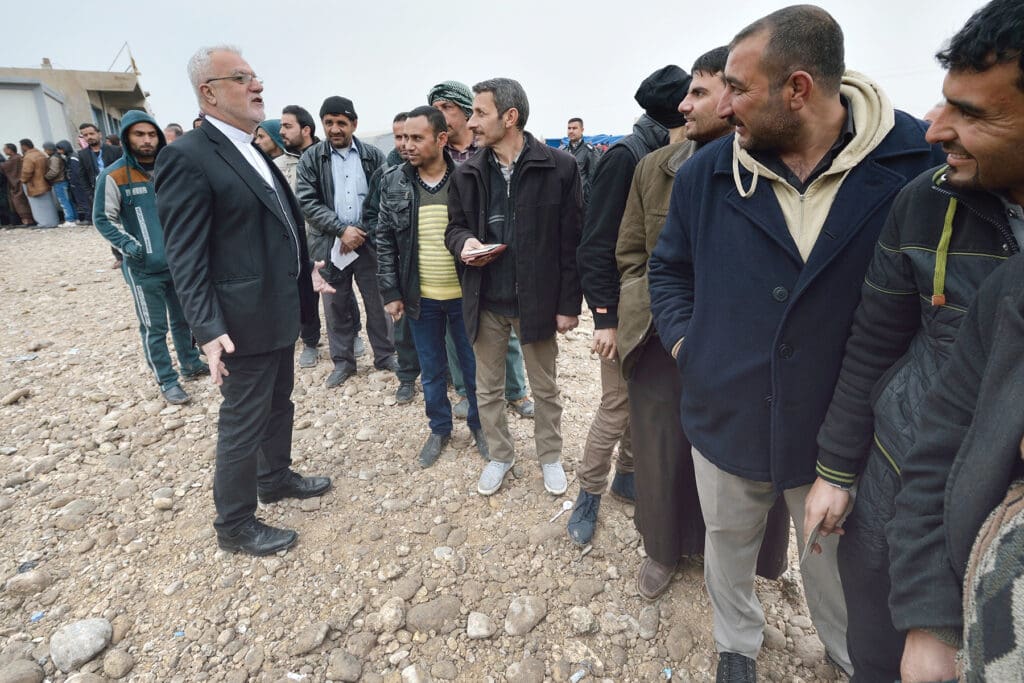 With the great panic and anxiety experienced during the coronavirus pandemic, CAPNI stepped up its efforts and partnered with other organizations and programs, including CNEWA, to try to prevent the virus from spreading. We held awareness programs, helped those who were infected and assisted many in overcoming anxiety and fear.
The promotion of hope and its permanence are achieved by increasing the number of "ambassadors of hope" and creating a space for them to witness. These ambassadors are church youth, who, with their activities and programs, turn the restive church into a church that brings hope as a remedy for suffering.
CNEWA-Pontifical Mission has backed ecumenical pastoral programs in nine churches serving more than 1,800 people from various regions of Iraq, including Duhok, Kirkuk, Erbil and the Nineveh Plain. These programs — including Bible studies, youth camps, choirs and community discussions on the challenges faced by the church, the family and individual Christians in carrying out their baptismal mission to serve the community of faith and Iraqi society — have produced many fruits.
The joy on the faces of participants communicates a sense of safety, confidence and peace within one's self and with one's surroundings. These activities also give renewed energy to church and interchurch activities. They build bridges and strengthen the unity of faith and Christian belonging.
While we are proud of our services and programs for vulnerable communities, we are prouder of the pastoral and church programs, as no civil society organizations care to fund such programs. And while we always thank and pray for the supporters of our various humanitarian programs, we are grateful in a particular way to those who support pastoral programs because of their lasting and sustainable positive effects.
Our workday may seem long or tiring sometimes, but our souls fill with joy when we hear encouraging words from the displaced children, sick elders or energetic youth, and our faces reflect the smiles of those we encounter throughout the day, whether on a field visit or in one of our programs.
They should not thank us. We are the ones who must thank them for living, preaching and spreading hope, and joining us in fulfilling our mission to keep hope alive.