On a quiet April afternoon, Dunia waits her turn at the Mar Narsai dispensary in Duhok, a bustling city in the northern Iraqi region of Kurdistan. She carries her newborn twins: Yazin and Layan are falling asleep as they feed on their bottles.
The 24-year-old mother traveled from Mosul for a check-up appointment with Dr. Adeba Jassim Mahmoud, a pediatrician at the clinic.
"We came here because Adeba specializes in children, and these are my first babies," Dunia explains.
It is the first time Dunia has visited this dispensary, but her bond with Dr. Jassim goes deep.
More than two decades ago, a sick newborn arrived at the pediatric hospital in Mosul, where Dr. Jassim worked at the time.
"I remember that baby, his skin was blueish," Dr. Jassim says.
"I treated him with my own hands in the emergency room, and five days later he was stable and left the hospital."
That baby grew up into a healthy man and later married Dunia, fathering the twins Dunia holds delicately in the dispensary's waiting room.
Furthermore, Dunia and Dr. Jassim are both from Mosul, which they fled in 2014, when ISIS, known as Daesh in Arabic, imposed a reign of terror in Iraq and neighboring Syria.
"The day Daesh entered Mosul, it was a Thursday," recalls Dr. Jassim. "I heard the news that Mosul had fallen while I was on my shift at the hospital. I fled the same day."
Dunia and Dr. Jassim found safety in Duhok. When Mosul was liberated in 2018, Dunia returned. Dr. Jassim did not.
The origin of this new dispensary is tied to the displacement of Dunia and Dr. Jassim. As ISIS terrorized Iraq with mass murder, slavery, public executions and sexual violence, six million Iraqis were forced out of their homes. Duhok welcomed 25,000 people, among them Dunia and the doctor.
To answer the health care needs of the displaced in Duhok, a priest of the Church of the East ceded his office to a couple of doctors — and that was the seed of today's two-floor clinic.
Father Philipos Dawood Philips leads the liturgy on Palm Sunday for dozens of parishioners at Mar Narsai Church. Incense and a choral melody fill the air. Children play in the blossoming garden of the parish church tucked into a lively neighborhood of Duhok, a city surrounded by steep mountains. It is a day full of smiles. But, in 2014, this parish served as an improvised center to attend to thousands of people escaping ISIS and its atrocities.
Iraq's multitude of religious and ethnic minorities, including Christians, Yazidis, Turkmens, Shabak, Kaka'i, Mandaeans, Kurds, Shia, as well as many Arabs and Sunni Muslims, were targeted by the terrorist group.
"The year 2014 was horrible," says Father Philipos. "We saw attacks on the Christians in Mosul, the Nineveh Plain, Basra and Baghdad. There were attacks in churches and kidnappings of clergymen."
During the years of ISIS control, between 2014 and 2018, nearly 71,000 civilian deaths were recorded.
To assist in the humanitarian crisis, seven churches in Duhok, representing the Armenian, Assyrian, Chaldean and Syriac Catholic and Orthodox communities, created a council to determine the needs of the internally displaced.
Father Philipos presided over the council and his son Father Aphram coordinated the distribution of food and other relief items.
"We helped more than 6,000 families, the majority from Mosul and the Nineveh Plain. They were hosted in churches and houses in 82 villages," explains Father Aphram in a phone interview from Sweden, where he was assigned recently.
A few weeks into the massive displacement, two doctors warned Father Philipos about the urgent need to treat the sick among those who were internally displaced, hence the conversion of his office into an examination room.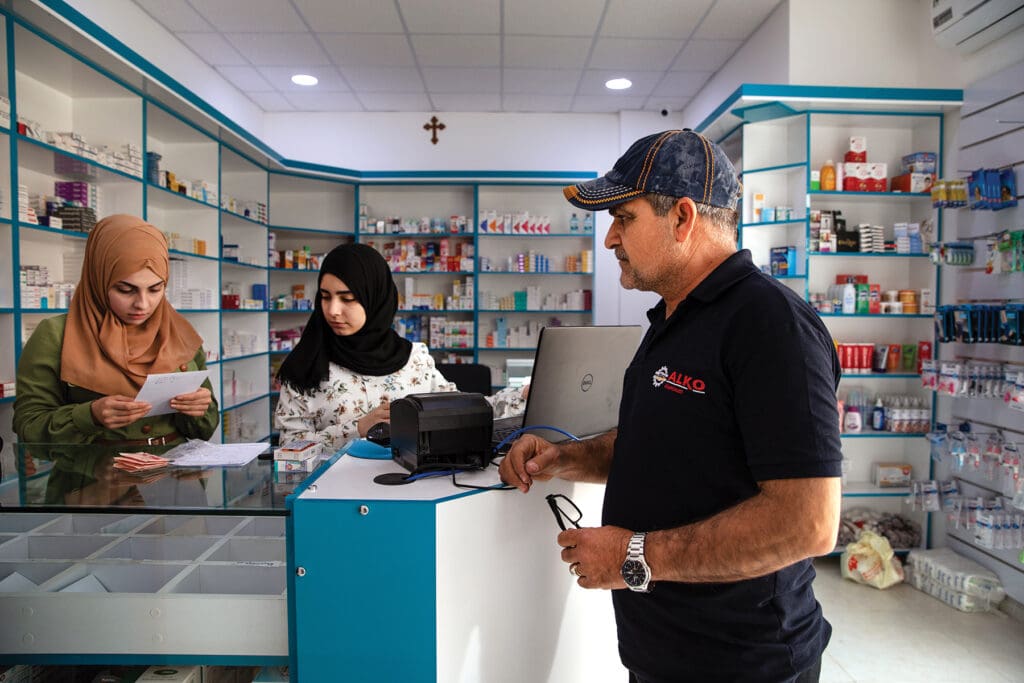 Soon after, CNEWA's Pontifical Mission emergency management team from Beirut arrived in Duhok and, meeting with the council, determined that a temporary prefabricated health clinic could better meet the needs of the displaced. Father Philipos offered the garden of Mar Narsai Church for the site of the clinic.
The temporary facility was inaugurated May 2015, and it was staffed by general doctors, dentists, gynecologists, pediatricians, orthopedists and ophthalmologists. The treatment and medicine were free.
"People came from across the region. It was open to all the displaced, Christians, Kurds, Yazidis and Arabs," Father Philipos says.
People would travel hours to the clinic because they were either unable to find medicine in their area or because private doctors were unaffordable.
Sabah Wadeeaa Sulaiman was a regular patient back then. The 65-year-old is a retired school principal, who suffers from diabetes and high blood pressure.
"They helped us with the medicines," he says.
Mr. Sulaiman remembers the exact day he was forced out of his house in Bashiqa, in the heart of the Nineveh Plain.
"I left 6 August 2014, two or three days after Daesh entered my region."
He was one of the 150,000 Christians who, on that single day, fled Mosul, Qaraqosh and other villages on the Nineveh Plain.
"Daesh burned my house. Now, some people of my village have gone back, but I don't want to return. In my region we were 500 Christians families, now around 150 remain," he explains.
Mr. Sulaiman is one of the 1.2 million Iraqis who remain displaced from their homes and communities. The main obstacles to their return are insecurity and social tensions, the slow pace of reconstruction of damaged infrastructure and the lack of work. ISIS sleeper cells continue to launch occasional attacks both in Iraq and Syria.
"There is still fear, because in some of these regions, these [Daesh] ideas are still in people's minds," says Father Philipos.
Mr. Sulaiman has found stability in Duhok and has gone from being a patient at the prefabricated clinic to a patient at the Mar Narsai dispensary. Last April, he visited the dentist with tooth pain.
"The treatment is very good, and it is cheaper than at other clinics," he says.
After ISIS lost its territory in Iraq in 2018, 80 percent of the six million displaced persons returned to their homes. As the prefabricated clinic bade farewell to many of its patients, Father Philipos had an idea: "Doctors and medicine are very expensive here, so I thought, why don't we open a dispensary to help everyone, the disadvantaged people in general, not only displaced ones?"
In Iraq, despite current favorable macroeconomic figures, 2.5 million people need some form of humanitarian assistance, 729,000 of whom are internally displaced.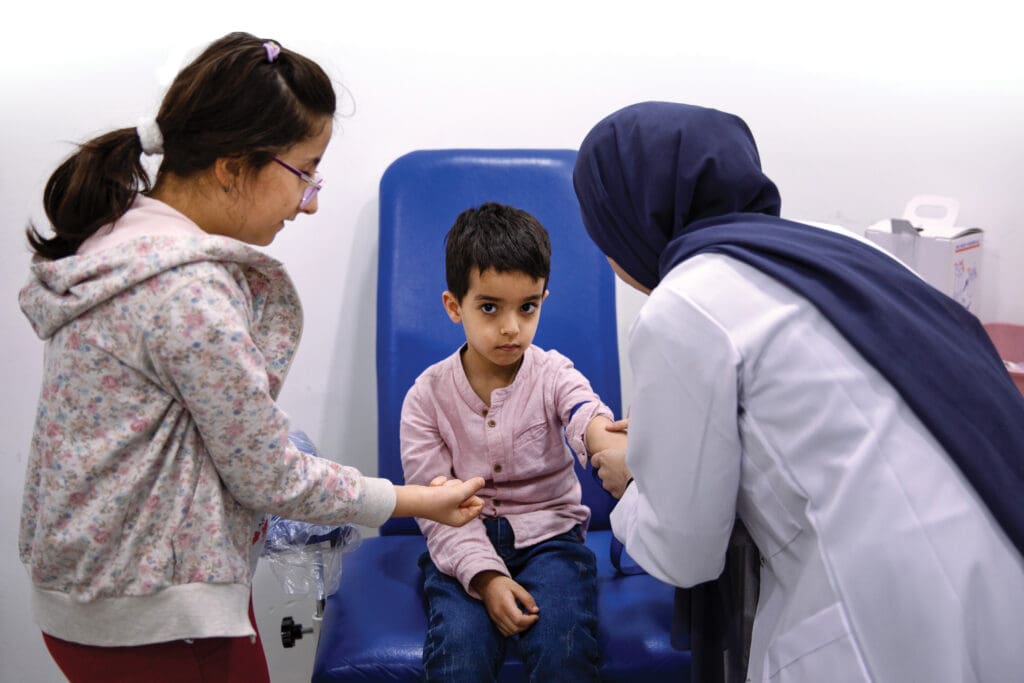 CNEWA and Misereor, the aid agency of the Catholic bishops of Germany, funded the construction of the new 11,300 square-foot dispensary built on land offered by the local municipal authorities. Last December, the clinic, officially called the Mar Narsai Non-Profit Medical Complex, opened its doors to all.
"We treat all the people as equal. We don't look at their religion. We treat Muslims, Yazidis and Christians without any distinction," says its administrator, Atra Barkhow Oraha.
"It's just like the Lord said in the Bible: Love your neighbor just like yourself. So, we always love our neighbors, and we always try our best to serve them."
The dispensary is quite unique in Iraq, where there are either private centers, which are expensive, or public health care centers, which are free or have nominal fees, but tend to be under-resourced.
The Mar Narsai dispensary employs 11 doctors, including family physicians, gynecologists, pediatricians, dermatologists, otolaryngologists, ophthalmologists, dentists, cardiologists and gastroenterologists, and 11 staff. The complex includes a laboratory and a pharmacy.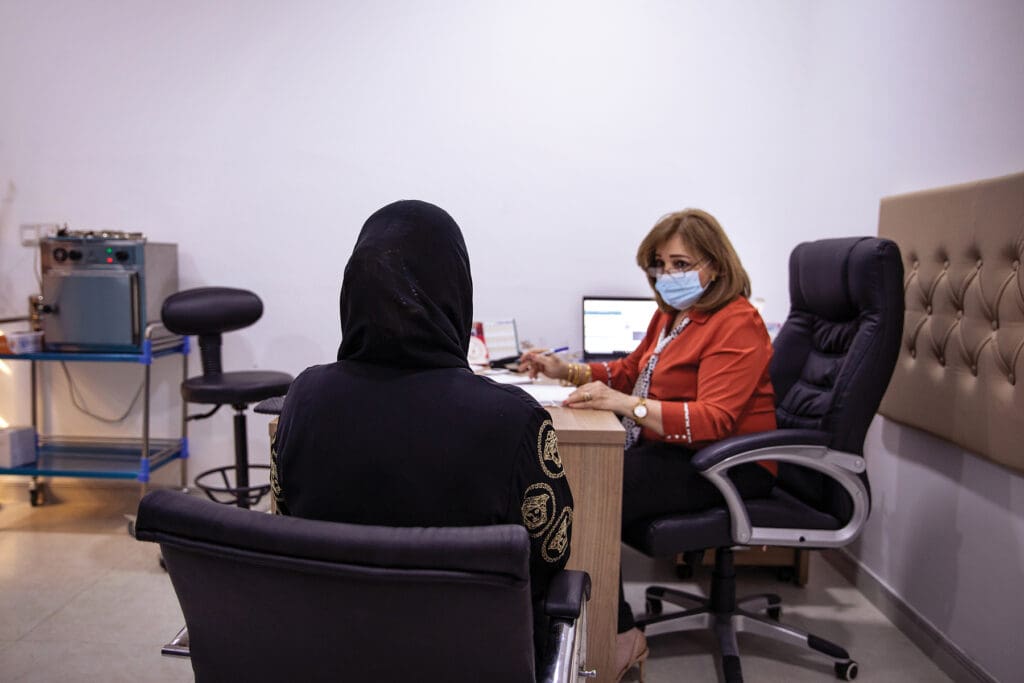 "Our services most in-demand are gynecological and the ultrasound for pregnant women, and we receive many chronically ill, like diabetics," Mr. Oraha explains.
About 70 percent of patients are locals and 30 percent are displaced persons.
"We've registered 2,248 patients so far, and, on average we receive 50 patients per day," says Mr. Oraha.
Yusra Joqi Khanu is visiting the doctor to have her chest pain checked.
"I had breathing problems and pain in my chest. The doctors did a full check. They treat you very well here. We needed a dispensary in this area and now we have it," she says with a smile.
Ms. Khanu fled Baghdad in 2007. That year, more than 26,000 civilians were killed at the height of the sectarian violence that followed the U.S. invasion in 2003. Her neighbor was kidnapped and killed, and after her husband was threatened by an armed group, they fled.
"We came to Duhok on 23 November 2007, fleeing the terrorist attacks. On our street in Baghdad, we were all Christians. But all of them were threatened and left," she recounts.
Ms. Khanu plans to stay in Duhok, a region to which she feels connected because her father is from northern Iraq. As a parishioner of Mar Narsai Church, she helped assist internally displaced persons in 2014.
"We helped the displaced by welcoming them in my house and through the church," explains Ms. Khanu, who has been a regular patient at the clinic since its origins in the prefabricated building.
Other patients, such as Kawthar Salah, are coming to the dispensary for the first time. The 28-year-old from Duhok gave birth four months ago to her third child and is visiting the gynecologist to treat a womb inflammation.
"My relatives told me about this dispensary. They said it is suitable for people in need. I used to go to another center. It was not expensive, but here it is better," she says.
The dispensary receives patients who previously went to public health care centers and those who went to private centers but have found the dispensary more affordable.
"The quality is like a private hospital, but the price is like a government hospital," says Father Aphram.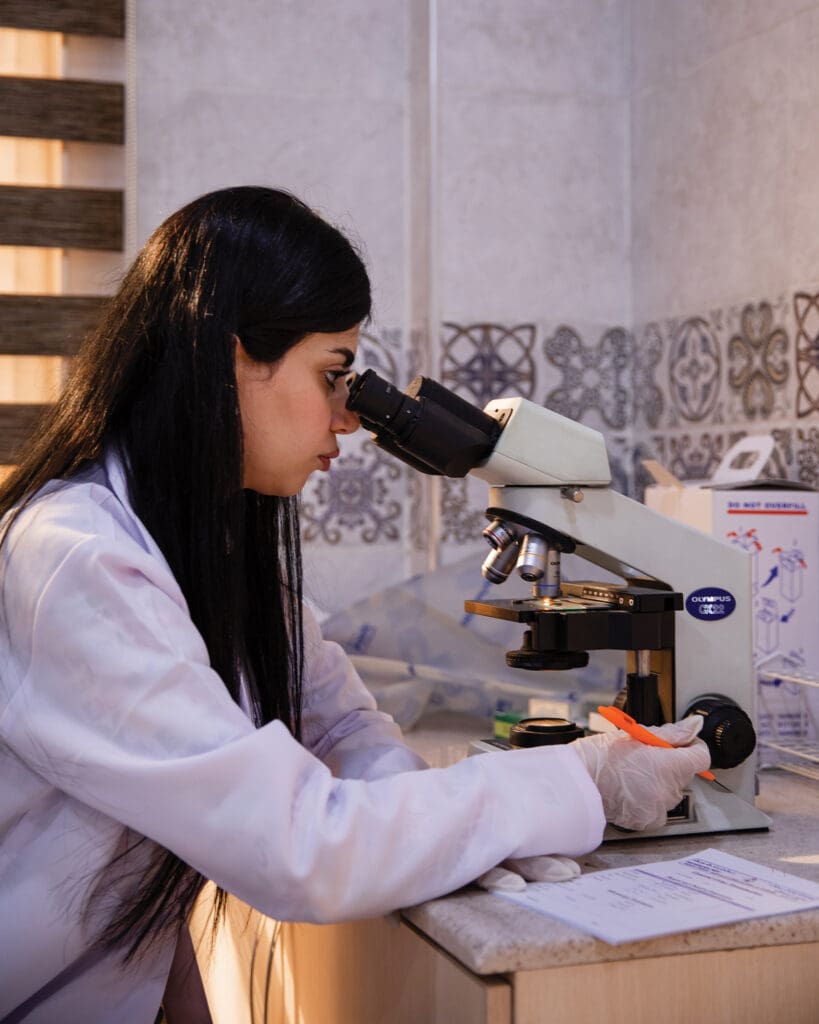 Wartikes Marderus Wartan, a 55-year-old Christian Armenian who works at an aluminum company, found information about the dispensary online four months ago and has been a regular patient since then.
"I came today to have a check-up because I have high cholesterol," he explains. "I used to go to a private doctor, but here it is more affordable. Hopefully it can grow, I'd like them to have operating rooms for example."
Costs for a visit at a private center start at about $17, while at Mar Narsai a visit costs a fraction of that, about $6.80. That affordability helps doctors follow up regularly with their patients.
Dr. Muna Ghanim Majeed Shaya, an obstetrician and gynecologist displaced from Kirkuk in 2007, has worked in the early detection of breast cancer and cervical cancer both in private and public health care facilities in Iraq. She has noticed the patients at her private clinic would not show up to their appointments due to cost, but they do at the dispensary. Early detection of cancer is key to increasing survival rates, she points out.
When Dr. Ghanim treats pregnant women, she is also very attentive to the early detection of anemia, which is widespread in Iraq.
"We do the [anemia] exam every month and we give them iron. If the price [of the visit] were high, [the patient] wouldn't come to the check-up and would postpone the exam," she explains.
Helan Adeb waits patiently in the corridor to be called by Dr. Ghanim. This Kurdish woman from Duhok is four months pregnant, and this is her first check-up for this pregnancy.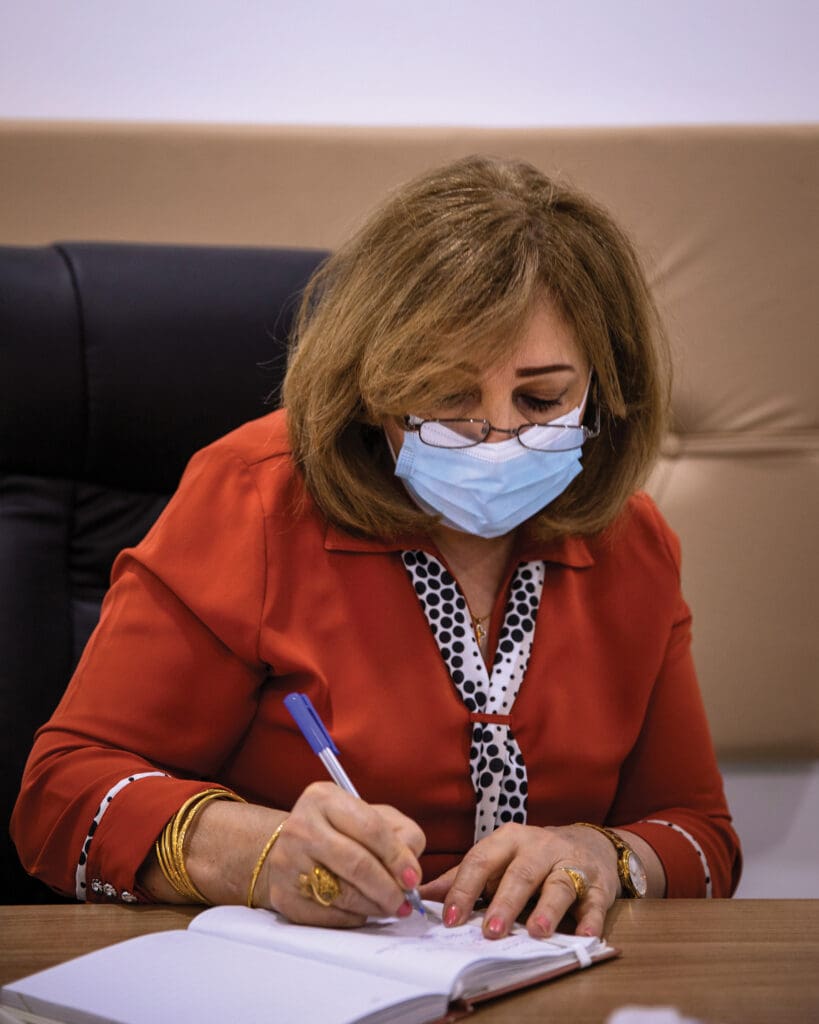 "When I had the twins a year and a half ago, I went to the doctor every two months, but it was expensive. So now, with this pregnancy, this is the first time I go to the doctor due to my economic situation," says Ms. Adeb.
"Hopefully, they will open a place to deliver babies here, because my cesarean was very expensive," she adds.
Father Philipos shares Ms. Adeb's wish.
"We would like a full hospital with all the specialists," he says.
Among the challenges for the dispensary are the monthly expenses of the pharmacy and the lab license, which cost $2,000 and $500, respectively. High on the list of priorities is to equip better the radiology department.
Dr. Maysaloun Shaman Saeed heads the radiology department at Azadi Hospital in Duhok, and works at the dispensary in the afternoons.
"The ultrasound machine doesn't fulfill all our patients' needs," she explains. "For example, to assess if there is a benign or malignant mass in a breast examination, we need a more developed ultrasonic machine."
The dispensary also lacks a CT scanner and an X-ray machine that would allow Dr. Saeed to deal with "muscular spasms, vertebral and lumbosacral spine examinations, and any fracture or trauma."
Three days ago, she had a patient whose ultrasound exam showed a mass on his kidney.
"But I don't have an elastography, so I didn't assess if it was malignant or benign, and I referred him to another center," she says.
Within the walls of the new Mar Narsai dispensary, patients and doctors, displaced persons and locals, Christians and non-Christians, all find a safe space. The paths of these Iraqis tell a story of resilience in a country where brutal violence took a high toll on vulnerable communities, such as Christians, Mandaeans and Yazidis.
Since the 2003 U.S. invasion, the population of Christians in Iraq has dwindled from 1.5 million to fewer than 250,000.
"In the 1970s in Baghdad there were 2 million Christians. Now there are 200 families. In Basra there are only 100 families left, and in Kirkuk, Mosul and Nineveh Plain it's the same story," says Father Philipos. "Sadly, a hundred Christian families every year leave Iraq," he adds.
Christian communities have deep roots in this land, he adds. The nearby Mar Odisho Monastery, which dates to the year 311, is an example.
"It's out of the question that Christians will leave this region. We will remain. God protects us from extremists, wars, persecution and attacks," he says confidently.
In northern Iraq, in the Iraqi Kurdistan region, many displaced persons seem to have found the stability they could not find in their home communities. Mr. Marderus and his family were threatened in 2007 and fled Mosul for Duhok.
"I don't want to go back to Mosul. In Kurdistan, there is more security and freedom," he says.
That same year, Ms. Khanu fled Baghdad, and like Mr. Marderus, she does not plan to go back. However, leaving Iraq is not an option for her.
"No matter the circumstances, Iraq is my country," she says. "It is where I have my roots, and I love my country."
---
Alicia Medina is a Spanish freelance journalist based in Lebanon since 2018. Her work has appeared in international media outlets, including News Deeply, Syria Direct, Syria Untold, Deutsche Welle and Radio France International.
The CNEWA Connection
The onslaught of ISIS changed the demographics of Iraq permanently. Their reign of terror displaced its deeply rooted mosaic of peoples — Christian, Mandaean, Sunni and Shiite Muslim, Yazidi, Arab and Kurd — destabilizing the heartland of ancient Mesopotamia. However, CNEWA's programmatic support followed these communities, adapting and responding to their needs as the situation shifted, as in the case of the Mar Narsai dispensary profiled here. CNEWA's commitment is to people first, helping to create a world where their needs are met and their dignity is upheld.
Support our mission in Iraq. Make a donation at https://cnewa.org/campaigns/iraq/