When Rima Poghosyan fled her home with her children in 1988, she left behind everything: her furniture, her house, her village.
"I was born, raised and married in the village of Chardakhlo in Shamkhor [a region in northwestern Azerbaijan]. I used to work in the fields there — I was an experienced farmer — and then our life turned upside down," she recalls of the violence between Armenians and Azeris that began in the early 1990's in the southernmost portions of the former Soviet Union.
"I don't even want to go back to those days, when we left everything behind and were hardly able to reach safety in Armenia."
She found refuge with her in-laws in a village located in the northwestern Armenian region of Tavush, not far from the border with Azerbaijan. Her sanctuary, however, became hell.
"The bloody hands of the enemy reached even here," she recalls bitterly. "They attacked our village, burned my husband's parents in their own house, and kidnapped my husband."
"Once again," she adds, "we fled, eventually settling in Karabakh."
So much of her life has been spent in flight — escaping violence, hardship, war. Now she finds herself fleeing once again, with thousands of others, seeking shelter and some security in a part of the world that seems locked in perpetual turmoil.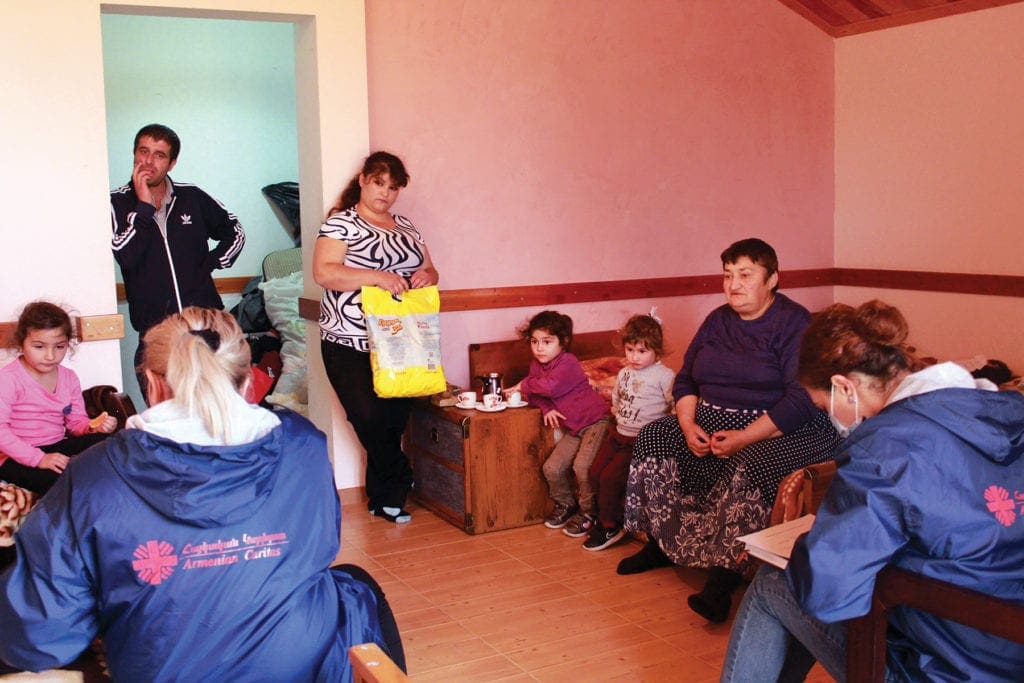 Rima Poghosyan and her family are ethnic Armenians whose families have long lived in the southern Caucasus, a transcontinental land that lies between Asia and Europe, squeezed between the Black and Caspian seas. For millennia contested by powerful empires — Roman, Persian, Byzantine, Ottoman Turkish, Russian and Soviet — its rich mountains and valleys have sheltered a mosaic of peoples: ethnic Armenians, Georgians, Greeks, Persians, Turkmens, Udis and Yazidis.
Historically a part of greater Armenia, Nagorno-Karabakh (meaning "mountainous black garden") was for centuries annexed to the Persian Empire, with local Armenian princes governing its territories and peoples. Ethnic Armenian Christians dominated the region, yet coexisted with nomadic Turkic Shiite herdsmen and their families, ancestors of modern Azeris, who traversed its valleys and mountain passes.
Internationally recognized as a part of Azerbaijan, Nagorno-Karabakh's Armenian majority seceded from Azerbaijan and declared its own republic, named Artsakh, in 1994. Since then, the government of Artsakh has welcomed Armenians, including Mrs. Poghosyan, who settled in the village of Kotchoghut in the region of Martakert, where she raised her four children alone — "three soldiers," as she says, and a daughter, who has married and has eight children.
For some two decades, Mrs. Poghosyan has worked hard to build a better life in Kotchoghut for her growing family as a single mother. But this year, war interfered, again.
"On 27 September, I got ready as usual and went to work," she recalls. "It seemed to be a peaceful autumn day. The bus was about to move when we heard a very loud explosion. We looked up as if there were drones. For a moment, we didn't realize what was going on; it looked like fireworks."
As the bus passengers tried to comprehend the noise, three consecutive explosions rocked the bus. Then "we got a call informing us that the enemy had launched a large-scale offensive, so we returned back to our homes and hid ourselves in the basement," she says.
Thus began what Armenians now call an "unfinished" Sunday. That morning, they learned Azerbaijani troops had attacked the entire length of the "Line of Contact," the border that divides Azerbaijan from Artsakh. In response, the Republic of Armenia and the government of Artsakh declared martial law and a total military mobilization.
The first casualties among civilians were reported at 10:17 a.m. — one woman and a child. Soon after, Armenians received word that 16 men died, then another 15, then 28. By the end of November, [Armenian or Artsakh] government reports put the number of Armenian deaths between 1,172 and 2,425, although up to 4,000 may be dead. Azerbaijan has not issued an official count of casualties or deaths.
According to initial estimates, some 90,000 residents of Artsakh, primarily women, children and the elderly, fled their homes. Mrs. Poghosyan was among them.
"My three sons are on the front lines. The youngest has recently joined the army, while another had been discharged in January. Although my eldest son was not allowed to go to war — he is the father of five children — he volunteered to protect our home and homeland. … We left our village with my daughter-in-law, five grandchildren and a neighbor. And we could only take the necessary basics: clothes, some food and documents."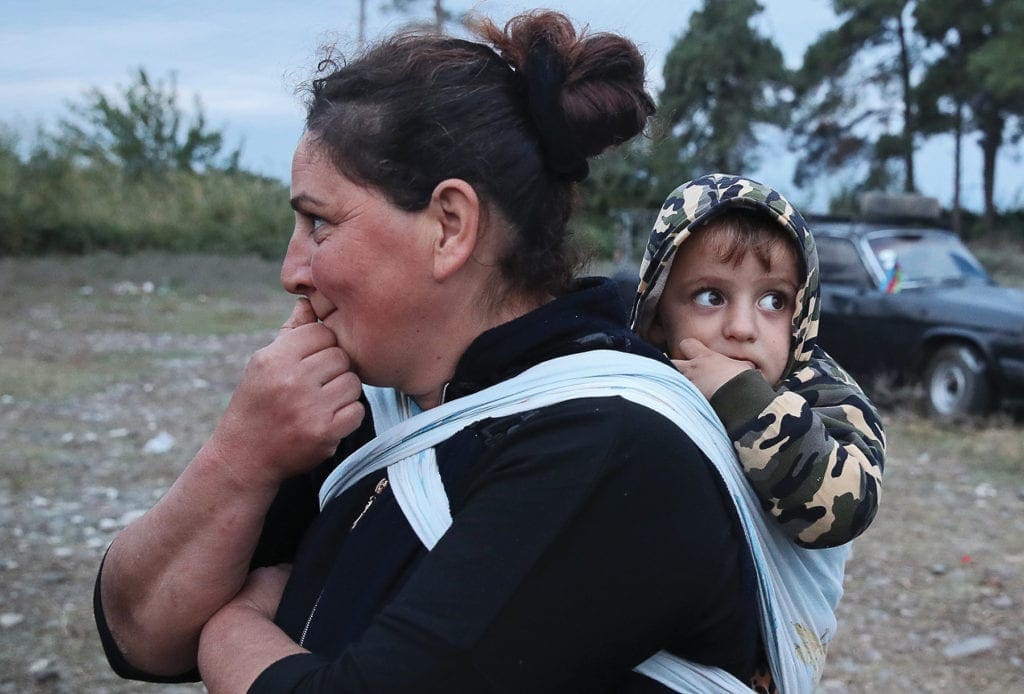 Upon reaching Armenia proper, the family found refuge for 21 days with a host family; but as the hostilities between Armenian and Azerbaijani forces continued, Caritas Armenia reached out and moved the family to a summer camp of the Armenian Catholic Church located in the village of Torosgyugh in the Shirak region.
"My family of seven people has been provided with a very comfortable room here, as well as hygienic supplies and meals three times a day." She also notes that classroom activities and time to play punctuate the day for her grandchildren.
"I don't know how to express my gratitude for the tremendous support during these devastating times," she says.
Some 30 people have been settled in the camp, named for the legendary cardinal of the Catholic Church, Patriarch Gregory Peter XV Aghajanyan (1895-1971). Working with the regional authorities, Caritas took the initiative in housing the refugees until a long-term solution could be determined.
"It's very comfortable here and equipped with all commodities," says Siranush Minasyan of Caritas, the charitable arm of the Catholic Church in Armenia. "It's a beautiful area … and is only 12 miles away from the regional center. There is a nearby school, a kindergarten, which will enable us to organize the process of children's education in case the war drags on," she continues.
Besides providing accommodations and meals, Caritas provides some medical services, distributes first aid kits, hygienic supplies and clothing.
"We have given toys and educational games to the children," notes Ms. Minasyan. "Caritas volunteers visit and entertain them. We try our best to help these children, not to let their worry about war take over and lead them into isolation and withdrawal," she says, adding that psychologists visit the families, and priests often meet and talk to them about issues that concern them.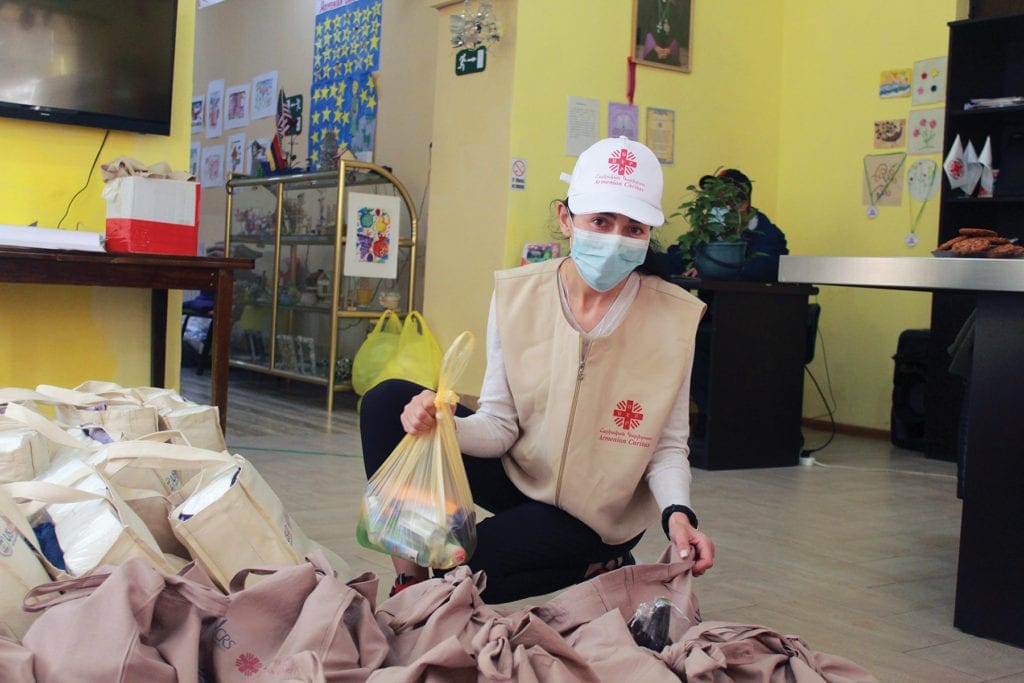 The battle against the COVID-19 pandemic in the southern Caucasus did not cease even as war waged on. Despite the adherence to protocols to combat the spread of the virus, up to half of the tests administered confirm the presence of the virus.
"To curb the spread of the coronavirus, each family is placed in a separate room with a separate bathroom," Ms. Minasyan notes. "They have been provided with masks and sanitizers, and the staff always wears masks."
With the onset of winter, and the cessation of hostilities, Caritas is stepping up its support for refugee families, as large portions of territory that made up the Republic of Artsakh have been ceded to Azerbaijani control, forcing thousands more to abandon their homes and flee.
Armenuhi Mkhoyan, a communications specialist for Caritas, says close ties with regional governments have enabled the charity to reach more people as they arrive in the country.
"We have provided 50 families with food, hygiene supplies and blankets, and will provide hygiene supplies to seven more families in Shirak," he reports, saying that they have identified another 1,300 refugee families, plus 840 families from the Ararat region.
"We have also contributed to a hotel in Syunik region, which hosted families. Food, medication, and hygiene supplies have been distributed to more than 220 families there," he adds.
Thirty-five-year-old Alina Vardanyan, a mother of three from the city of Stepanakert, the capital of the Republic of Artsakh, has also found temporary shelter in the Aghajanyan camp in Torosgyugh. Her husband, together with her brother and brother-in-law, remain on the front line in the contested region. To protect the children, she left her house behind and fled, taking her frail and elderly mother-in-law with her. She says her children screamed in fear when they first heard the terrifying sounds of explosions. When they arrived at the camp, they could hardly speak. But after a few conversations with the camp counselors, she adds, they overcame their fears.
"We fled half naked, literally in slippers. They were constantly shooting. We were staying in the basement," she recalls, adding that they could not return to the house to take anything.
Upon arriving in Armenia, they stayed with Ms. Vardanyan's uncle for a few days, until they learned of the camp.
"Here, they provide us with everything we need. … We don't need anything," she says, noting that the Caritas workers "entertain the children, and fill their days with interesting activities.
"I want to think we are here for a short vacation and will be back in our homes again soon and live our life as before. No matter how well they treat us here, we are looking forward to receiving a call to tell us that peace has been established and we can return home," she says, wiping away her tears.
Even though the hostilities have ceased for now, she awaits her call.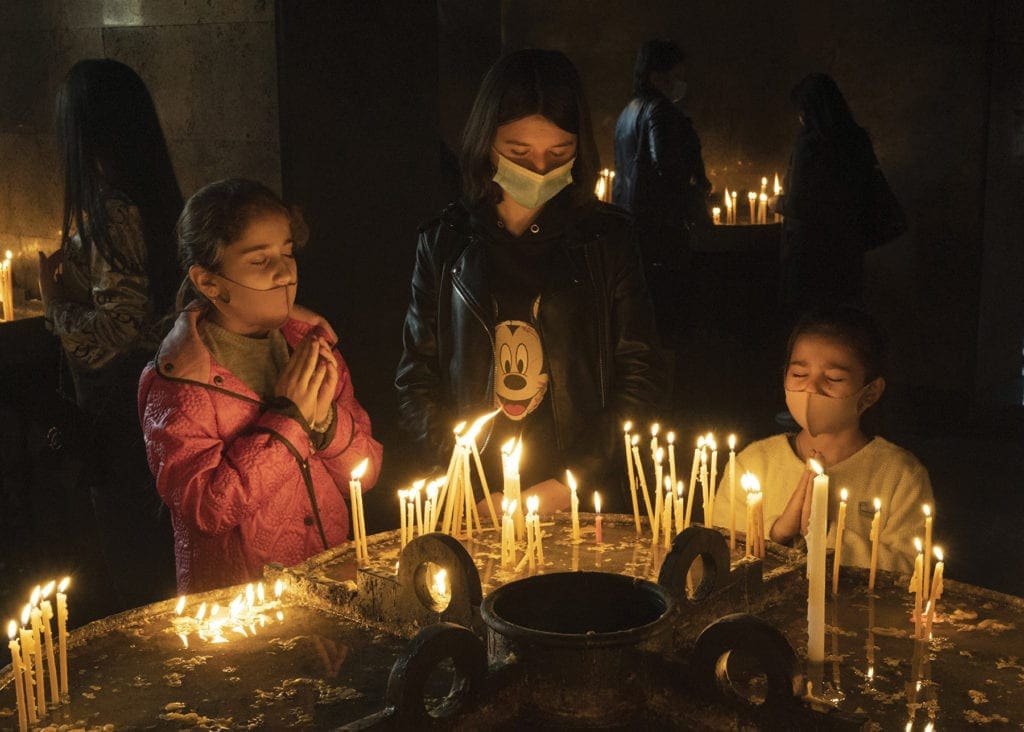 Forty-year-old Aida Adamyan looks forward to returning home. She misses her home village despite all the efforts and the heartwarming attitude of the Caritas team that tries to help her and her family overcome the trauma they have experienced.
"In the 1990's, we lived in the Martakert region until we were evacuated, again," she says. "Together with my mother and younger brother we came to Armenia and were placed in one of the camps, while my father and other brother were on the front line, where my brother was severely wounded. In 2016, my younger brother went to the front line, and today my daughter and I are displaced, again.
"This endless war is like the sword of Damocles," she says, exasperated. "It's hanging over our heads.
"I have gone through three wars, but would have never imagined something like this. It's indescribable. … We have always had the fear of a large-scale war. We were aware of it; it was expected as the conflict was not entirely solved. But we never thought it would be so intense."
The only glimmers of light thus far, she says, are her encounters with the church.
"I don't know what I would do if not for these people and for Caritas Armenia. I used to think there were no good people left in this world," she says, "but it's certainly not true. Just a few words with Father Grigor Mkrtchyan strengthens me. … Perhaps our faith in God helps us not to go crazy during these hard times."
The president of Caritas Armenia, Archbishop Raphael Minassian, champions the charitable efforts of this instrument of the small Catholic community in Armenia. Caritas Armenia works for the common good of all Armenians, as it extends a helping hand to all in solidarity, encouraging them to persevere, despite all the obstacles of life.
As the shepherd of a widely scattered flock of Armenian Catholics living in Eastern Europe, the Caucasus and the Russian Federation, Archbishop Minassian feels keenly the unique fears and needs of the Armenian people, particularly in light of the many tragedies that have devastated them in the past 100 years or so. He is certain God does not abandon his children.
"The sorrow has come to all of us. … We must overcome it and help each other go through this black streak as soon as possible. God tests our faith and wants us to pass through it to revive and strengthen our faith.
"I am pretty sure God will not forget his children."
Gohar Abrahamyan manages issues of justice and peace in the Caucasus for local and international media.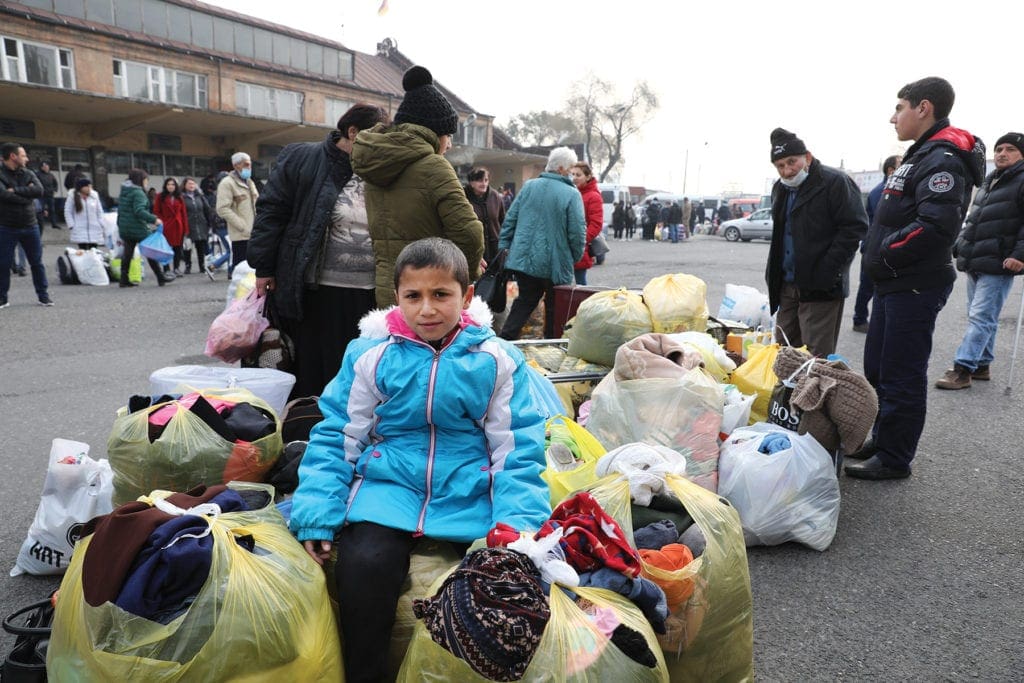 The CNEWA Connection
Some measure of peace was achieved in the southern Caucasus at the time of publication, but the loss of formerly Armenian-settled territory in parts of Nagorno-Karabakh — in exchange for that peace — has Armenians reeling. Yet, Armenia's Catholic Church is responding, addressing the needs of the most vulnerable among the nation's 2.9 million people, more than 25 percent of whom live below the poverty line.
CNEWA works closely with the Armenian Catholic Ordinariate and Caritas Armenia in their efforts, helping to keep warm the elderly, the poor and the displaced; supporting child care programs; providing access to health care, especially for those living in the remote north; and assistance for those with special needs.
To learn how you can join CNEWA in helping the church in its outreach to the people of Armenia, call: 1-800-442-6392 (United States) or 1-866-322-4441 (Canada).