Lebanon's Tragedy and Hopes
On 10 September, Cardinal Bechara Boutros Rai, Maronite patriarch of Antioch and all the East, was the featured guest in a special international webinar co-produced by CNEWA, Salt+Light Media and Fordham University's Center on Religion and Culture. CNEWA's chair, Cardinal Timothy Dolan of New York, introduced the session from New York City, and the patriarch joined from northern Lebanon.
Entitled "Lebanon's Tragedy, Lebanon's Hopes," the hourlong webinar afforded the patriarch the opportunity to offer a personal update on the crisis in Lebanon. He described the hardships the people are facing after the 4 August explosion and appealed to the North American public to help support the country in its hour of need, which is great.
As the patriarch prompted in the webinar: "Help us to restore [Lebanon] once again to that vibrant and flourishing religious, political and cultural model in the Middle East, so that it may be able to play its role and fulfill its own mission."
In addition to CNEWA's assistance of the most vulnerable in Lebanon — Lebanese, Syrian, Iraqi, Armenian and Palestinian — the Holy See has asked CNEWA to partner with L'Oeuvre d'Orient of France in coordinating worldwide Catholic aid to the nation that will focus on health care facilities and schools. To learn more, visit: cnewa.org/lebanon.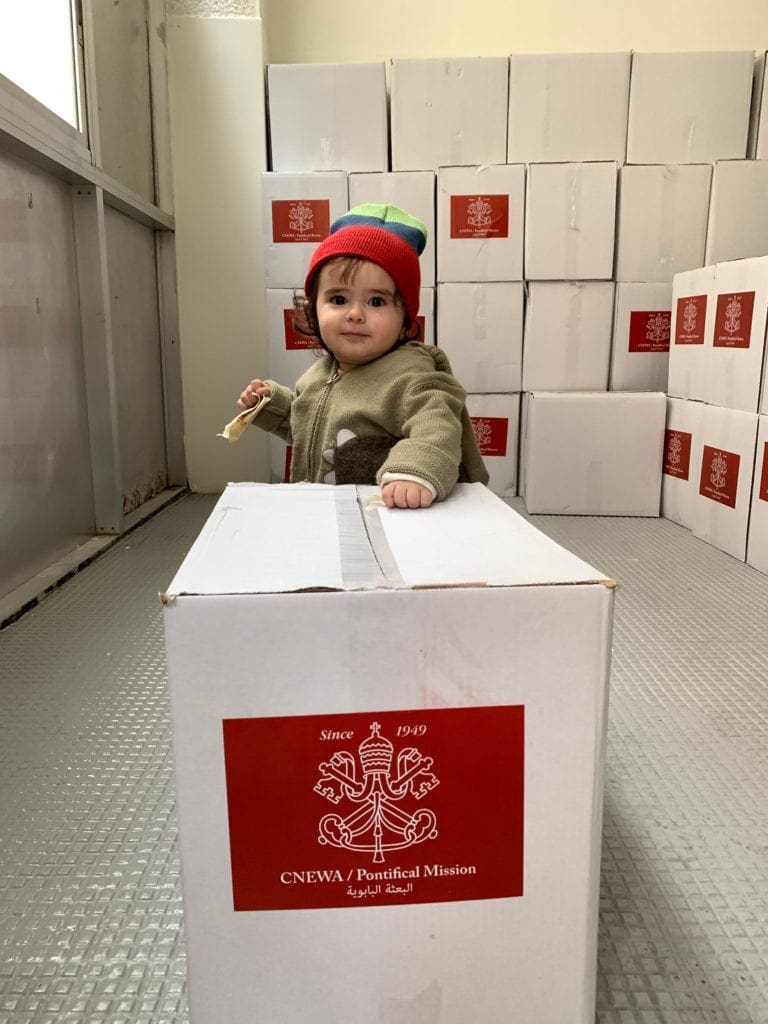 COVID Relief in India
In September, CNEWA received an update from the newly established Syro-Malankara Catholic Eparchy of St. Ephrem, Khadki, in western India, which had received aid from CNEWA to help those in need during the COVID-19 crisis.
The Rev. Samuel Thekkekavinal, who directs the social service activities of the eparchy, headquartered near Pune, Maharashtra, wrote: "Thanks to funds from CNEWA, we have launched realistic relief efforts to support as many vulnerable people as possible.
"Community kitchens have been set up for distribution to the poor and underprivileged. This distribution has been done across the state of Maharashtra with attention given to appropriate social distancing and hygiene norms while delivering the food to needy persons.
The eparchy also offered hygiene kits and held sessions to raise awareness about social distancing and other safety precautions. Father Thekkekavinal concluded: "We are grateful to the CNEWA family for your generous support, which has benefited so many of our people in the care of our eparchy."
Bringing Warmth to Armenia
As Armenia confronts the fallout of conflict in neighboring Nagorno-Karabakh, along with the crisis of a global pandemic (see Page 6), CNEWA is once again partnering with Caritas Armenia, the charity of the Catholic Church there, to provide some measure of security and warmth to the country's vulnerable, especially its elderly poor.
The annual Warm Winter Appeal brings heat, health care and food supplies to those who have no work opportunities or resources, who have special needs or simply have no one to care for them.
Many people live in containers, neglected housing or simple structures in the rugged hills of the southern Caucasus. With CNEWA's support, Caritas team members deliver fuel, food, first aid supplies and a comforting presence to a population in dire need. Learn more at: cnewa.org/ww.
Pope Honors Msgr. Kozar
In October, as CNEWA's regional directors from around the world gathered for their annual global meeting, held virtually for the first time, Cardinal Leonardo Sandri announced that Pope Francis had named CNEWA's former president, Msgr. John E. Kozar, a prelate of honor of His Holiness — an increasingly rare distinction of honor given to priests by the pontiff.
Cardinal Sandri, prefect of the Congregation for Eastern Churches, joined Cardinal Timothy M. Dolan of New York, CNEWA chair, in expressing personal gratitude, affection and friendship for Msgr. Kozar. The monsignor, in turn, spoke warmly of his years of service to CNEWA and its mission of accompanying the Eastern churches. Msgr. Kozar currently serves the local church in his home diocese of Pittsburgh.
Pizzaballa Named Patriarch
Pope Francis appointed Archbishop Pierbattista Pizzaballa, O.F.M., as Latin patriarch of Jerusalem on 24 October, after his service as apostolic administrator of the Latin Patriarchate since June 2016. The new patriarch began his service in the Franciscan Custody of the Holy Land in 1999. In 2004, he was appointed custos of the Holy Land, gathering support for the many activities of the Franciscan community in the Middle East.
He holds an undergraduate degree in theology from the Pontifical Antonianum University in Rome and completed his studies at the Studium Biblicum Franciscanum of Jerusalem. He subsequently served as professor of biblical Hebrew at the Franciscan Faculty of Biblical and Archaeological Sciences of Jerusalem.
Instability in Horn of Africa
Successive years of drought, locust infestations of biblical proportions, fear of the coronavirus pandemic, and interethnic and political violence threaten to destabilize Ethiopia, one of the largest nations in Africa, reports Argaw Fantu, CNEWA's regional director for Ethiopia. Although the shelling of the nation's Tigray region had slowed at the time of publication, the violence had triggered a flight of refugees to neighboring Sudan. It also halted or limited the work of the region's Ethiopian Catholic Eparchy of Adigrat and the Ethiopian Catholic Secretariat; both fund or operate schools, clinics and various social service programs for at-risk communities.
In a recent media interview, Carl Hétu, CNEWA's national director in Canada, said people in Ethiopia are being cut off from food, water and supplies. "A protracted war … is the last thing people need there," he told The Catholic Register in Toronto.