Blossoming orange trees spread their sweetened scent of spring in Damascus, one of the oldest continuously inhabited cities in the world.
Sitting in the courtyard of an old house, Sister Insaf Shahine of the Congregation of Religious of Jesus and Mary speaks of art and music and their ability to soothe and heal.
"One day I attended a conference about healing through music," she says. "I fell in love with the idea. We were coming out of a 10-year war, every one of us had a wound in our heart and soul.
"When God shed light this way, I thought, 'Why not? Music is educational, which is related directly to our mission.' I told the superior and the sisters and, with the help of many, the Blessed Dina Bélanger Center for Music and Art became a reality."
The center, named for a Canadian member of the congregation who died in 1929, welcomes children from the ages of 7 to 14. In the past year and a half, it has offered drawing and music classes to about 200 children; 75 percent of them attend the courses for free. Parents who can afford it contribute a nominal fee. The instructors, most of them young graduates, also receive nominal remuneration.
"They want to be part of people's joy," says Sister Insaf about the young instructors.
And indeed, there is a lot of joy at the center. Children come running to drawing classes. Parents wait in the courtyard, taking a break from their daily obligations, sharing the burdens of a life that has become harder each day. Syria is in the midst of an unprecedented economic collapse that has plunged 85 percent of the population into poverty.
Parents do not hesitate to express how much the center has affected their children's lives positively and they are very proud of what their children are learning.
"We haven't seen a smile this big on our children's faces in 10 years," they have told Sister Insaf after a festival the center organized last summer.
"My daughter always loved drawing and here she has found the place to develop her talent," says Raneem's mother, asking her daughter to show her latest artwork.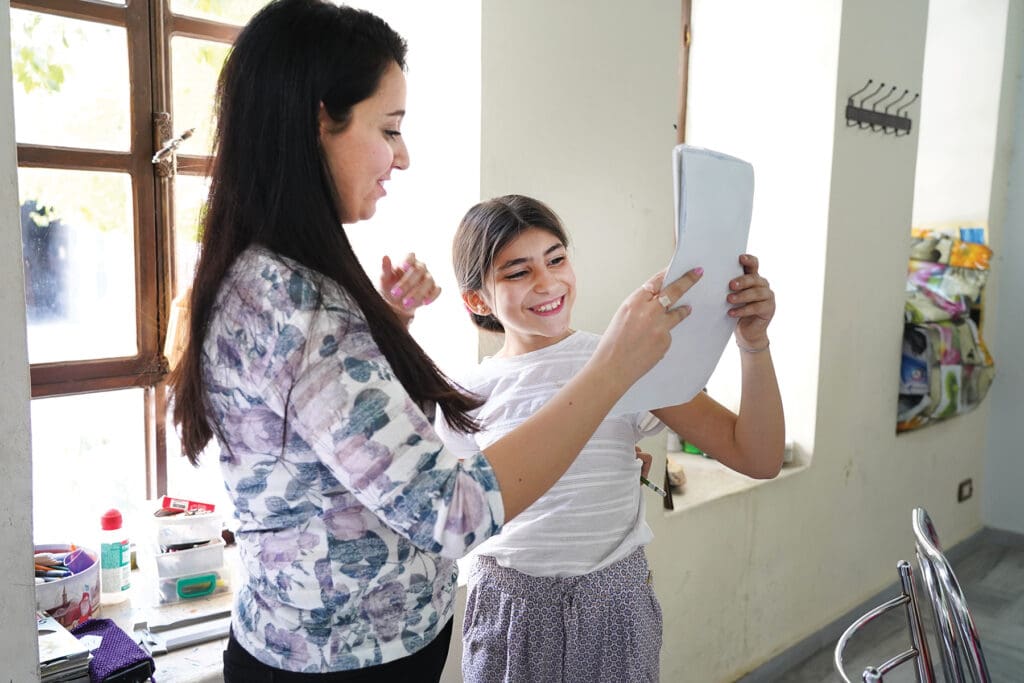 Wissam, 13, talks about how playing the oud, a pear-shaped string instrument, similar to a lute, has helped him to overcome the fear he felt constantly during the war.
However, the center faces a major challenge; funding sources are scarce. The staff is worried, but Sister Insaf is not. She has "many dreams." She is confident there will be new donors and she happily announces that a friend of the center has offered to form and conduct a children's choir.
Sister Manal Choucair, also of the Religious of Jesus and Mary, talks about her dreams for her catechetical mission in Maarouneh, a village in the countryside outside Damascus.
"There are 190 children who attend catechism there," she says, her smile lighting up the room.
"We have five classes. We use a building owned by the church. I am in charge of training the teachers and I accompany the children preparing for their first Communion. I am proud of everything we do, even though our means are very basic. I would love for us to have more study aids, teaching material and an audiovisual room."
Sister Manal speaks passionately about the children of Maarouneh.
"I would like for them to widen their horizons, to meet people from other regions," she says. "We are planning a summer camp for them. We asked for funds and hopefully the camp will take place."
With the same dedication, Sister Antoinette Wakin talks about the challenges facing her fellow citizens and the help her community of sisters tries to offer.
"This year was very hard on people," she says. "They are in great need of everything. We are unable to answer all the demands. We help with food baskets, shoes and clothes when available, but there are not enough funds."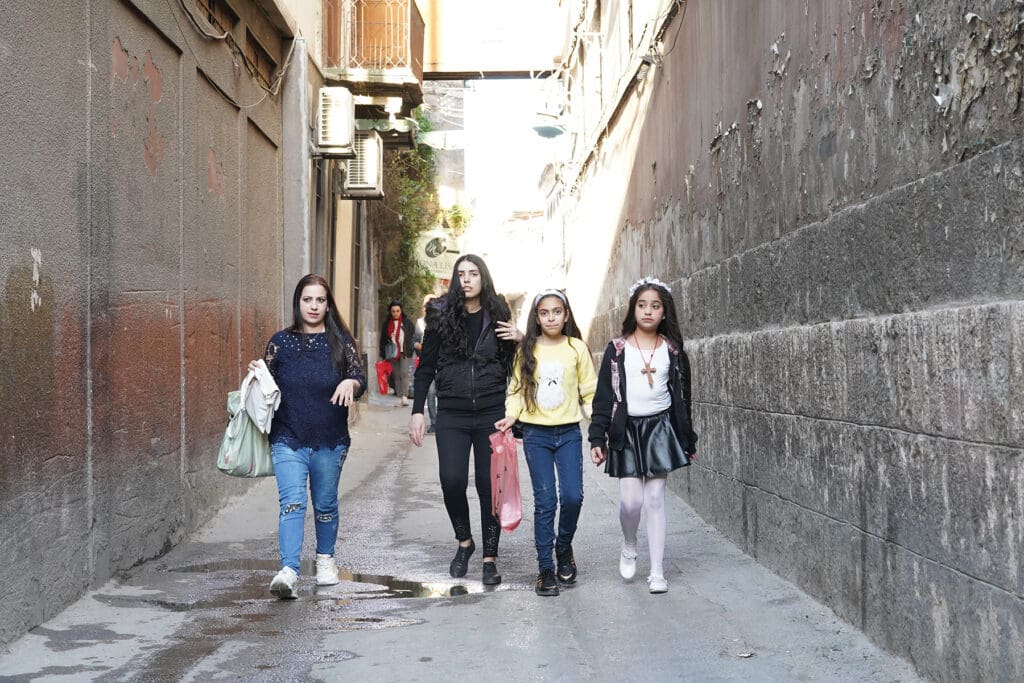 Rania, a mother of two, found herself in an empty new apartment during last winter's harsh weather. With help from Sister Antoinette, she was able to buy two mattresses and a heater. She still has no fridge.
"We need prayer, we need help," says Sister Antoinette, "at least to meet the basic needs of people, to help them live with dignity."
Dignity is a recurring word when Syrians are asked about their lives and how life has changed since the war began in March 2011.
"I miss dignity," says Nadia, her eyes filling instantly with tears, her real name withheld to protect her privacy. "Even if we work a million hours, the salary won't last more than two days. We had to sell jewelry, furniture, the washing machine, the television. We sold almost everything."
Her husband was diagnosed with cancer and is unable to work. She wanted to remove their three children from Al Riaya School, administered by the Sisters of Charity of Besançon, but Sister Jihane Atallah, who heads the school, convinced her otherwise.
"The school has existed in Syria since 1925," says Sister Jihane. "The children's education is a priority for parents. They should at least feel that the church stands by them in this concern."
Therefore, the school adopted a policy that children with cancer or who have a parent suffering from cancer or whose father has died receive full tuition support. In Syria's collapsing post-war economy, the state is unable to provide suitable medical assistance and families are spending what they have on treatment.
There are currently 1,439 students at Al Riaya. In 2012, because of war, the staff and students were forced to evacuate the premises and reorganize, holding classes elsewhere so the educational mission could continue. In 2021, the school returned to its original building, which is still under reconstruction.
In a country suffering from severe power cuts, reconstruction is another challenge. Last year, Sister Jihane decided to wire the school to "a golden line" — an expensive power line — which has been a great benefit to students and teachers.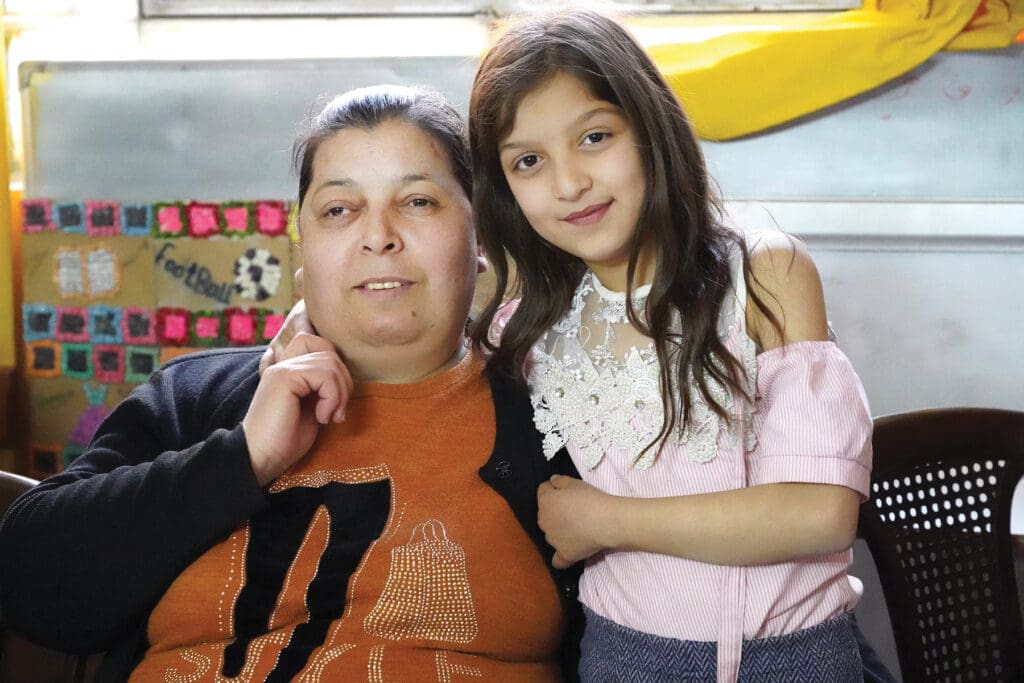 "Last winter, there was almost no electricity at all in our homes," says Sister Jihane. "It was dark and cold. The children were delighted to find heating and light at school.
"We also bought two washing machines and a dryer, so teachers could do their laundry here. Now we are installing solar panels for sustainability," she adds.
"I am very grateful to everyone who is helping, especially those who live abroad," Sister Jihane emphasizes. "We face suffering every day. But [our donors] don't witness what we are witnessing, and still they give freely. I am truly very grateful."
With a similar organizational approach and deep faith that God will always provide, Besançon Sister Joseph-Marie Shanaa describes how she coordinates activities with a network of 20 volunteers.
"In our group, there are priests, nuns and lay people, among them, three doctors. We collaborate with three organizations, including CNEWA," she explains. "With the help of CNEWA, we currently provide milk on a monthly basis for 450 children. We also received support for our catechetical centers. They are now equipped with a video projector, laptops and a printer.
"We were able to support a summer camp and teacher trainings," she continues. "On Christmas, we distributed 350 food baskets and clothes for children."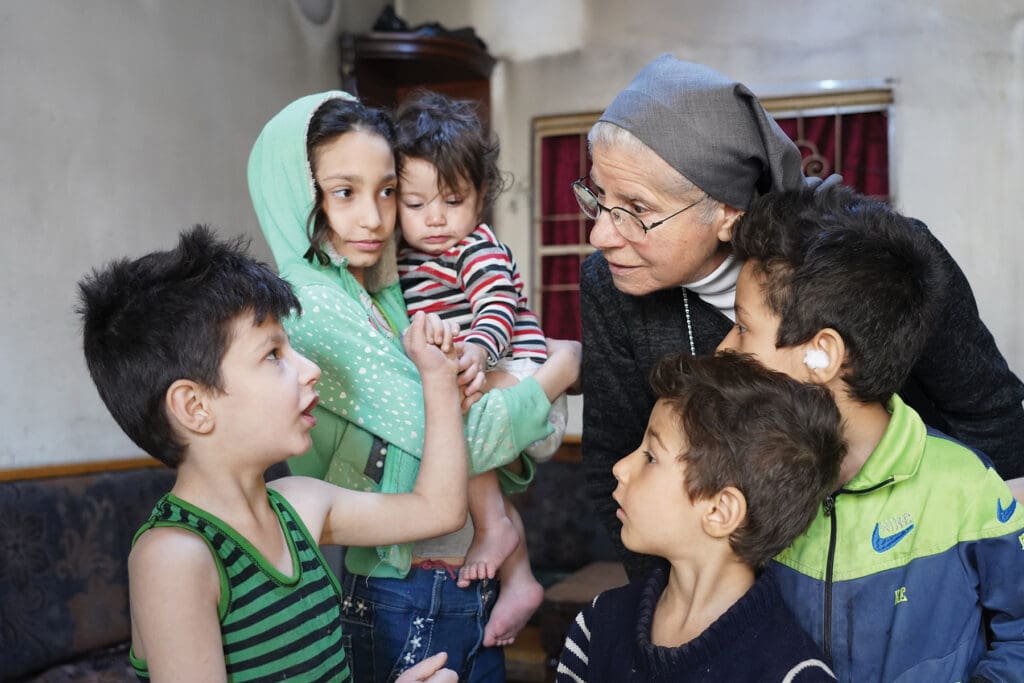 The three doctors care for 400 patients with cancer or chronic diseases and provide them with medication. Cancer patients receive funds quarterly for medical tests. The group also helps 550 university students and 650 families with rent. With the dramatic depreciation of the Syrian currency, rents tripled within a short period of time, while salaries remained unchanged. Many families face the threat of being on the street.
Sister Joseph-Marie works closely with Father Imad Shalash, a Melkite Greek Catholic priest, who knows well the families in need in the impoverished Dwel'a neighborhood. Many of these families have six or seven children and often both parents are unemployed.
"The challenges we face are huge," says Sister Joseph-Marie. "On a material level, we need all the support we can get, especially for the families with children. On a moral level, we try lifting people's spirits.
"It's true we are suffering, living in uncertainty. But God is alive," she continues. "He's with us and things will get better.
"I always urge people to pray," she adds. "Prayer gives strength and a positive outlook on life."
Faith and hope are at the heart of the work of Sister Georgina Habash of the Congregation of Our Lady of Charity of the Good Shepherd.
"I hope children and young people will find once again reasons to want to stay in the country," she says. "We were here during war. God gave us strength, and I hope we will continue to stand by our people."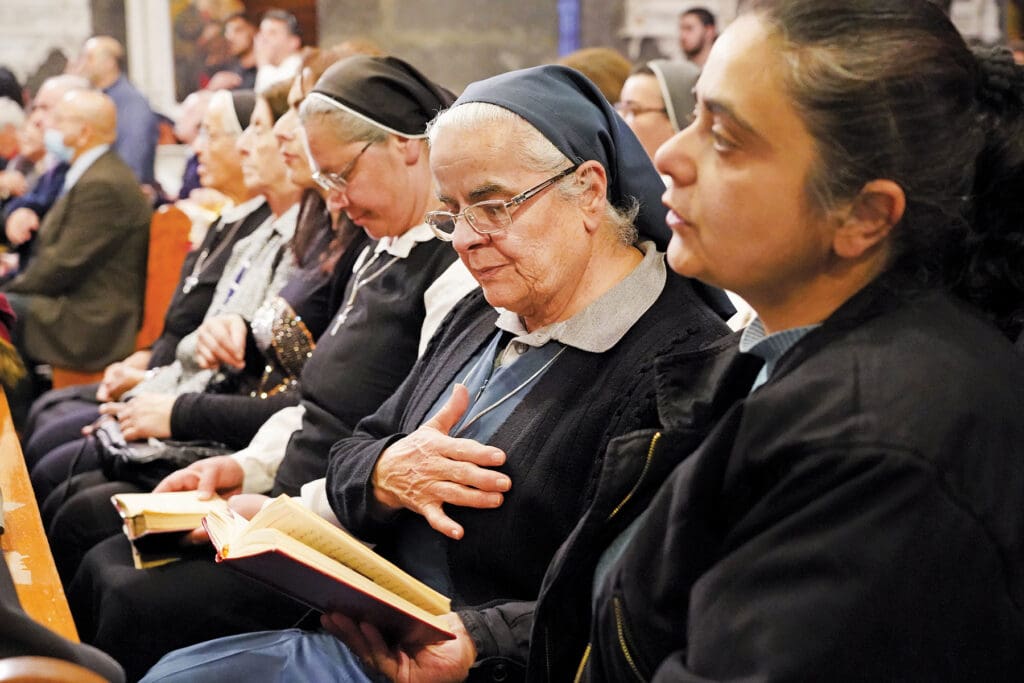 Her congregation has deep roots in the community.
"We are here to welcome people, to listen to them and to help them in all the ways we can," she adds.
In 2006, the Good Shepherd Sisters founded a shelter for young girls and women who suffer from exploitation and domestic violence. It is open to all women in distress without any distinction of nationality or religion. The shelter can host up to 14 women, sometimes with their children. A team of professionals helps them overcome their challenges and find work. The team continues to follow up with them even after they leave.
The sisters also initiated The Trust Line, which offers individual psychological support over the phone through a hotline as well as in-person, one-on-one counseling. A team of professional psychologists is always available to welcome couples, individuals or even children.
With the war, the need for psychological support grew stronger and the sisters also established the Family Support Project in Dwel'a. The program's first aim is to offer the child and his or her family psychological and social support.
During a six-month period, 140 children and their parents — mainly mothers — participated in the program, which helped them explore crucial aspects of their social interactions. In a neighborhood hit heavily during the war, one that hosts a significant number of displaced families, the project proved to be successful. Accompanied by a dedicated team of psychologists and animators, children and parents experienced, in some cases, dramatic change.
Norma speaks with gratitude about the progress made by her 10-year-old son, Eid.
"When he was a year and a half, he was starting to talk, but war terrorized him and he started having speech difficulties. He stammered," she explains. "This affected his studies, his relationship with his friends. He was very shy because everyone laughed when he talked. After he participated in the program, there was a significant improvement in his behavior and speech."
Norma and her husband were also invited to attend individual sessions as part of the process.
Lama Salloum, program coordinator, recalls another success story. When Jihad, an 11-year-old boy, first came to the center, he did not speak at all, not a single word. He was unable to play with other children or look them in the eye. He enrolled in the program for 12 consecutive months and the changes were tremendous. He finished having learned how to communicate and play with other children.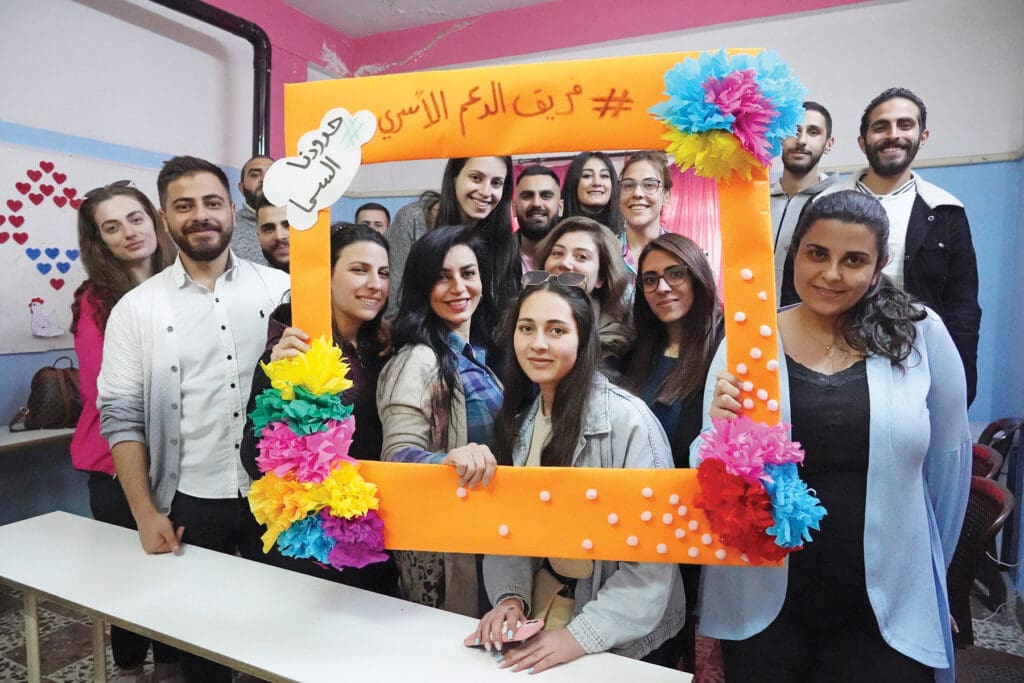 In these days, when a severe economic crisis is taking its toll on families, and anger and lack of communication seem to be common problems, parents who participated in the Family Support Project say they have gained much from the sessions.
"This center is necessary," says psychologist Maya Bechara. "We all need psychosocial support, and especially children.
"The Good Shepherd Sisters' motto is: 'With love nothing is impossible.' And that's what we do. We offer everything with love in order to give joy to the children, especially in these hard times."
---
Arzé Khodr is a freelance writer and playwright, based in Beirut.
The CNEWA Connection
Reports and pictures of the work of the church in Syria have been scarce since war broke out in 2011. Yet, quietly and continually, the people of God there have reached beyond their own needs to tend to those of others. CNEWA, through its Pontifical Mission office, has been a mainstay, providing the local churches, as featured in this article, with resources to feed, shelter and provide simple health care for the most vulnerable. The church, through its members, offers comfort and hope for the future, assuring the people that even if it seems the world may have forgotten them in their suffering, God has not.
Support CNEWA's vital work of the church in Syria: https://cnewa.org/campaigns/syria/