Editors' note: The names of the students have been changed to protect their privacy.
---
Meseret's thin fingers dance effortlessly on a thick white sheet of paper as she reads aloud an excerpt from her art textbook. Her loose braids are tied back. A gray mask covers her face. Seated behind individual wooden desks, four other second-grade students listen carefully as their hands simultaneously decipher the dotted braille relief covering the pages.
Meseret and her younger sister were born blind in Ethiopia's countryside. When their mother heard they could attend a special school, she seized this opportunity — rare in the country — and signed them up. Now the two girls can read and write braille and are taught a full school curriculum.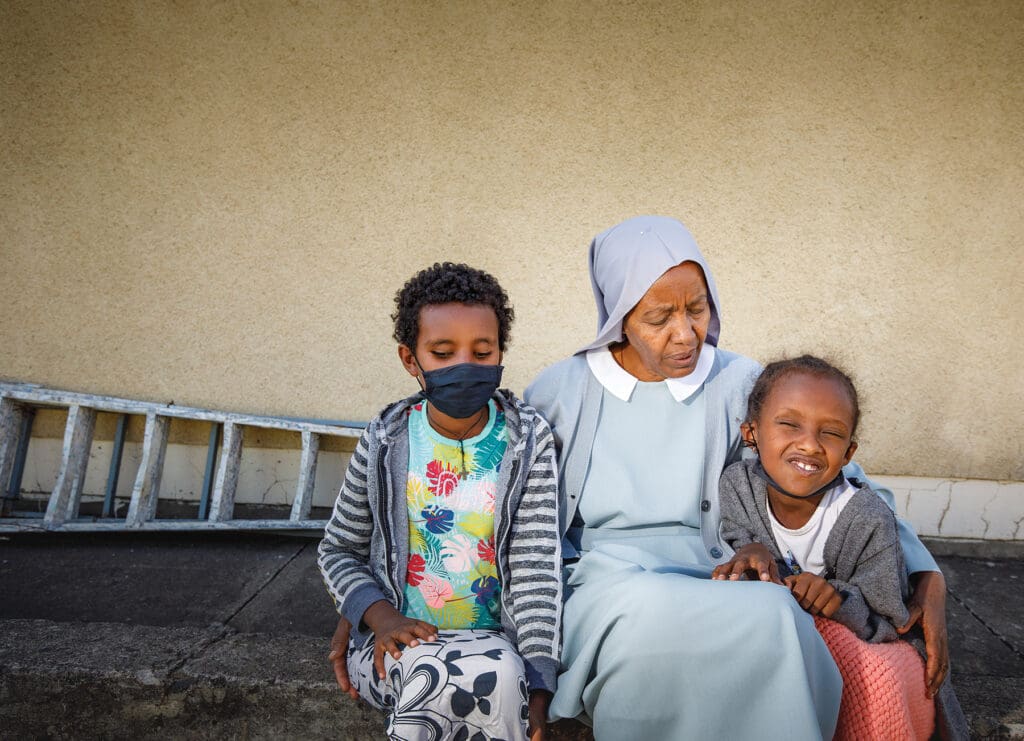 "Our biggest goal is for them to sustain themselves and not be dependent on others," explains Sister Haregewein Kiflemariam, the school supervisor.
Dressed in a gray habit, she walks calmly through the school premises, occasionally greeting children as she passes by.
"All of our students who have graduated are independent," she says proudly.
St. Raphael Boarding School for the Blind was established by the Daughters of St. Anne in 2002 in response to the poor conditions of children born blind in Ethiopia. It was the first formal boarding school for visually impaired children in the country.
Located in the town of Azezo, about 16 miles from the city of Gondar, in Ethiopia's northern Amhara region, the area is believed to be home to about 40 percent of the country's visually impaired population.
Sister Haregewein has been working at the school for 12 years, together with two other sisters of the Daughters of St. Anne and about 20 employees. The Ethiopian Catholic Eparchy of Bahir Dar-Dessie oversees the school.
On a January afternoon, the sun shines tirelessly in the azure blue sky. In the shade of a wall-less shelter, a group of students are huddled, listening attentively to a local radio station. Other students take walks, arm in arm, around the garden or study in the libraries, stopping from their study to tell the occasional joke.
The school's quiet compound encloses several single-story buildings, painted gray, white and beige, containing classrooms, a library, a recreation center, workshops and dormitories. Classrooms are supplied with braille textbooks and relief geography maps. No blackboards hang on the wall and the punch of styluses replaces the creak of chalk.
Currently, 63 students live at the school, but only students in the first to fourth grades are taught within the compound. The older children attend public government-run schools in the area — an often-difficult transition to life "on the outside."
A wide road separates the boarding school compound from the cobblestone path that leads to Azezo's public elementary school. Crossing safely is a challenge. The students walk hand in hand, using white canes to orient themselves and avoid obstacles. They are often assisted by passersby and friends, who gently ensure their safety.
But the terrain around the government school is perhaps the most daunting challenge. Giant tree roots cover the uneven and rocky soil, where hundreds of children run around in joyful chaos.
"The school is not hospitable, even for students with vision, let alone for the visually impaired," says Yilak Mamo, the director of the public school.
Most of the facilities are falling apart. Few desks and benches are usable; the windows are simple apertures with wooden bars.
Students from St. Raphael follow the same classes as everyone else in the public elementary school. They rarely use their braille tools here, mainly because of the noisiness of the slates and styluses. Their only option is to listen to the lessons and memorize them by heart.
"When we attend class [in the government schools] we have to learn in the same way as the other kids. There is nothing provided for us, be it technology or other things," explains Hailu, a ninth-grade student from St. Raphael. However, the school makes some accommodations for exams, even if they are not convenient, he adds.
Seated under the shade of an old eucalyptus tree, four fifth-grade students are taking their semester exams in social sciences. Temesgen is dressed in his beige school uniform and pink sneakers. He focuses on the questions a tired-looking teacher reads aloud. He responds by raising one, two, and up to eight fingers to communicate his answers. Temesgen is a quick-witted boy, brought to Azezo by his family after his brother, who lives in Gondar, convinced their parents to give him this chance at an education.
Despite the trying context, the test results of St. Raphael students are astonishing, among the best in their respective schools. Among the alumni of St. Raphael to date, 35 have graduated with university degrees and work at different governmental and nongovernmental organizations. Some alumni have found jobs in local offices; others have become well-respected lawyers.
Sister Haregewein knows the children's stories and admires their progress. Her biggest reward, she says, is seeing the students embark on a life of independence after graduation, with paid employment and sometimes a family of their own.
Selamawit, a St. Raphael graduate, now teaches at the school. It is a job that extends way beyond the classroom, she says.
"The relationship we have with the students is like brothers and sisters. They are going through what we have been through," she explains.
With role models such as Selamawit, Sister Haregewein hopes the students will continue to dream big.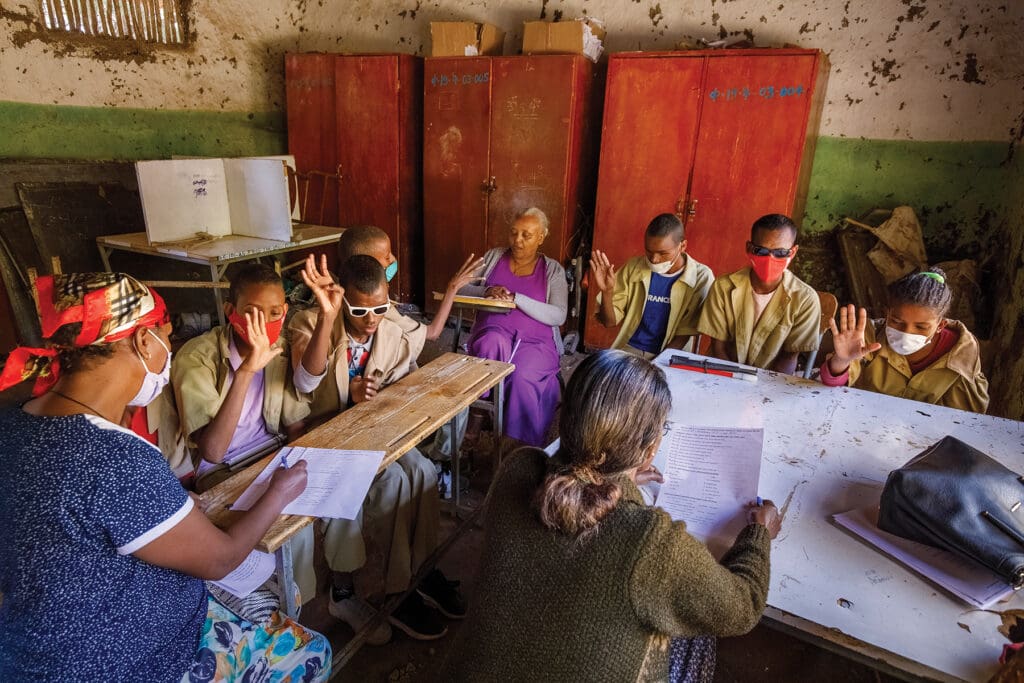 Hanna just graduated from 12th grade and will start university. Her dream is to become a journalist. She has been at the boarding school for 14 years.
"Before, when I was in the countryside, I used to feel bad about my blindness. I was hurt psychologically. But once I came here, I understood that a blind person can do whatever they want to do. That's what I learned, and it has brought great happiness in my life," says Hanna.
Her experience in the rural areas is no exception. In towns, people have gradually become more accepting and respectful of people with special needs. But in the countryside, the stigma still runs deep. A blind child is often considered a curse on the entire family. Sometimes, the mother or father, or both, will abandon the child. As well, in many cases, blind children are kept hidden inside the home.
"They hide their children, especially the girls," says Sister Haregewein. "At least some boys, when they grow up, could be admitted to church school. But the girls are made to stay at home. It's common knowledge."
In response to these customs, part of the school's mission also has been to raise awareness that visually impaired children are capable and able to learn, develop, be self-sufficient and contribute to their families and their country.
Yalaw, 10, was brought to St. Raphael when he was 7 years old. His parents, who were impoverished, told the sisters that Yalaw had never been in the sun before and had never learned to walk.
"He was as white as a paper," Sister Haregewein recalls.
"He's better now, even though he struggles with his education. But he's very good with music, he sings a lot," she adds, observing the boy as he makes his way slowly into the dining room.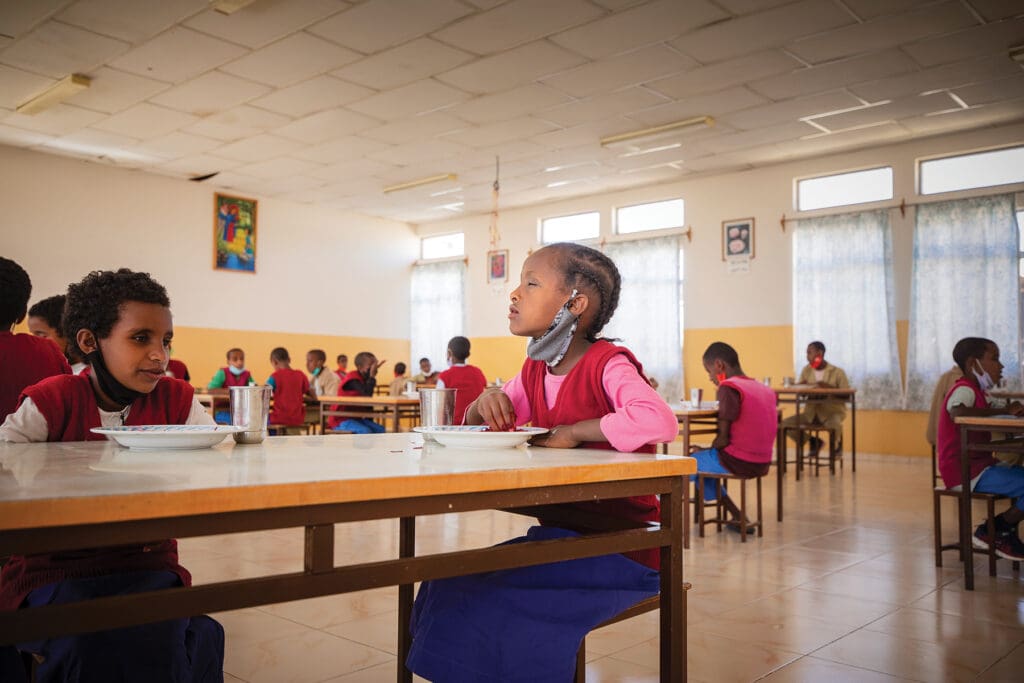 Ethiopian society generally gives little attention to the conditions, feelings and opportunities of people with special needs. According to a 2015 survey, about 7.8 million people in Ethiopia — amounting to just over 9 percent of the country's population — live with some form of disability. The most recent assessment on visual impairment found the national prevalence for blindness at 1.6 percent. This percentage includes those who develop visual impairment later in life due to disease or accidents.
For those who lose their vision later in life, adapting to blindness is a lengthy process, requiring psychosocial support. In Ethiopia, civil society organizations fill the gaps left by the almost nonexistent public facilities for the blind.
The Hiwot Center for the Blind in Addis Ababa, the national capital, is one of those organizations. Its director, Atsebayush Abebe, cofounded the center almost 22 years ago.
In Ethiopia, "a very small percentage of people with disabilities attend school. Why? Because the government and the community are not giving them enough attention. Before I was blind, I also didn't pay attention to these groups," she says.
When she started working at the center, Ms. Abebe was determined to change things.
"We provide different activities in this rehabilitation center to allow people to continue their life, for example to tend to their education or continue their work," says Ms. Abebe.
But without government backing and adequate research, progress on a larger scale is limited. The challenges are reinforced by an overall lack of funds and understaffed public offices.
According to a UNICEF report, more than 40 percent of disabled children have never been to school in Ethiopia. Few students are able to attend the facilities where education is tailored to their needs.
Back at St. Raphael's, the center's director, Tareke Mekonnen, observes proudly a group of studious kindergarten children.
"Those are the lucky ones," he points out. "Many others are left begging on the streets."
As the week of exams ends, students enjoy some well-deserved rest. A group of girls plays braille cards, while another group listens to Ethiopian music, bouncing their shoulders up and down to the rhythm, a move that is part of the traditional Ethiopian dance called Eskista.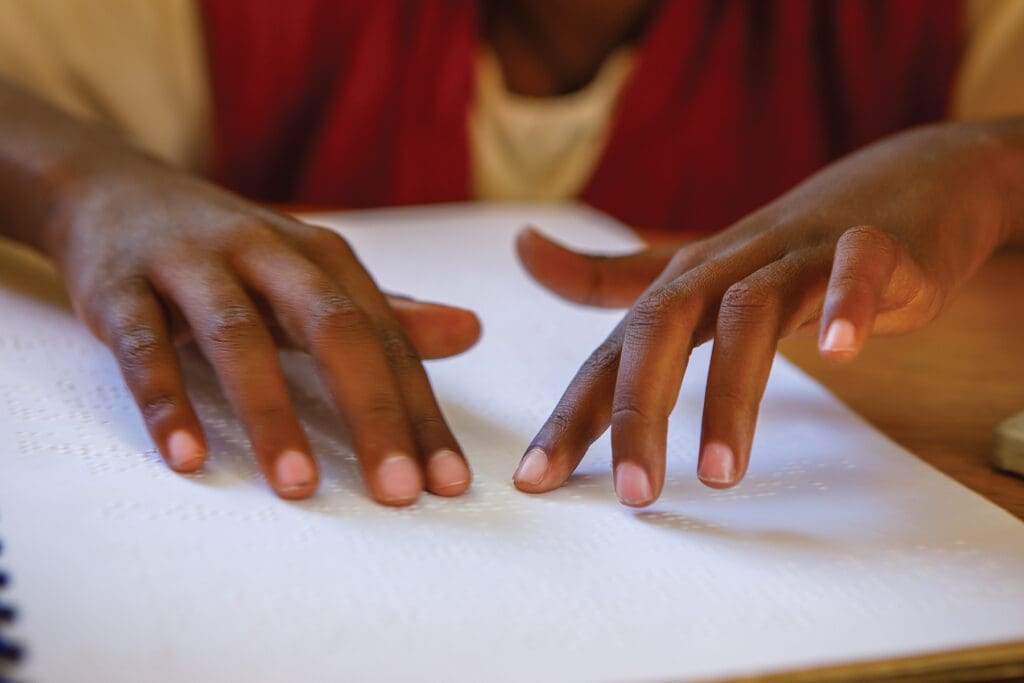 This apparent insouciance hides a world of understanding and knowledge that surprises even Sister Haregewein.
"They understand everything that is going on," she says.
The Amhara region, where the school is located, was until December the scene of clashes between the forces from neighboring Tigray and the Ethiopian army, backed by Amhara regional forces. Azezo and Gondar were spared from the fighting, but sounds of military training or celebratory gunshots after a victory were heard coming from a nearby military camp on various occasions.
"The students were very scared and crying, saying they would die before meeting their parents again," Sister Haregewein recalls.
The situation has calmed down in Amhara, to the relief of its residents.
In the school's grassy field, a group of boys has started a game of soccer. This is no ordinary game, as the players have to follow the sound of the ball. The referee is charged with hitting the ball with his hand, so the players can identify its location when out of play.
"When I first came here, I struggled for some time because I felt pity for the students because of their condition," Sister Haregewein says.
"But now, I am happy. I realized it takes a human to make a human," she adds.
"I've been here for many years and I should probably start getting bored. But I'm not bored of this," she says. "When you see the students all grown up, there is happiness in your heart."
---
Maria Gerth-Niculescu is a freelance journalist based in Addis Ababa. She has worked for France 24 and Deutsche Welle.
The CNEWA Connection
Ethiopia's Christian roots run deep, and CNEWA seeks to nurture these deep roots and their growth through a number of programs, including the accompaniment of those with special needs. Among these programs, CNEWA supports St. Raphael School for the Blind. Since its founding in 2002, this school of the Daughters of St. Anne has been teaching blind children the skills they need to become self-sufficient, pursue careers and families of their own, sparing them from a life on the streets.
To support these and other parts of our mission in Ethiopia, call 1-800-322-4441 (Canada) or 1-800-442-6392 (United States).