Due to the COVID-19 pandemic, Termine Mnoyan, a single mother of two from Gyumri, was left on the brink of extreme poverty, struggling to put food on the table. For many residents of the Shirak province — the poorest region of Armenia, still reeling from the great earthquake of 1988 — the pandemic became yet another hardship impacting hundreds of families, including Ms. Mnoyan's. Despite myriad governmental programs to mitigate the situation, hundreds of families continue to face food insecurity.
"Just a few months ago, my mom had a job; she used to wash plates in a restaurant and we could more or less make ends meet," Ms. Mnoyan says. "The children didn't go to bed hungry. Then, due to the coronavirus, the restaurant was shut down and my mom lost her job. There are days that we don't have money to buy bread.
"I understand that it has hit the whole world," the 31-year-old says, "and I know dozens of families in our city alone who are on edge. We only have to rely on kind people and organizations, and thank God, I was included in one of those initiatives."
This year, COVID-19 has changed the lives of hundreds of millions of people throughout the world, forcing many to reassess their present and their future. This global virus brought to its knees the small and poor nation of Armenia — squeezed between Russia, Turkey and Iran — prompting one cafe in the city of Gyumri, the provincial capital, to change its priorities and provide daily bread to those families affected by the virus.
Since September 2018, the Aregak Cafe has been enchanting neighbors, visitors and shoppers daily with the aroma of fresh bread and delicate pastries. The cafe is a program of the Emili Aregak Support and Resource Center, a facility for people with special needs founded by Caritas Armenia — the charitable arm of the Armenian Catholic Church — with funds from the European Union, Caritas Austria, the U.S. Catholic Bishops' Collection for Eastern Europe and CNEWA.
The cafe employs people with disabilities from the center and has quickly become a popular eatery in Gyumri. But to safeguard the health of both the community and its vulnerable employees, it has had to close its doors when the coronavirus swept into Armenia in the middle of March.
"We were depressed, we were crying, we were on edge and worried about what to tell people, when there was no money to pay salaries," recalls the center's director, Tigranuhi Hakobyan.
"By the end of March, we were already in debt and in a desperate situation when Sara, one of our former volunteers from the United States employed at the center, began to buy the bread made at the cafe to distribute it to those in need."
Sara's idea caught on; friends of the center jumped in and began to buy bread for people in need. Eventually, the idea became a program called "Our Daily Bread," which launched on 7 April, coinciding with a fund-raising campaign to sustain its activities.
"At first, most of the donations came from our acquaintances," says Ms. Hakobyan. "But beginning in May, others joined in. The price of each loaf of bread has been set at 300 drams [about 60 cents in U.S. dollars], which covers the costs of the bread production, its distribution to underprivileged families and salaries.
"Thanks to the program, we have even paid all our debts," she adds.
"The coronavirus has changed everything. It forced us to come up with new ideas, which, in fact, were successful."
In the midst of a worldwide crisis, this small church initiative has found new life by reimagining the ways it serves its community — and strengthening and nurturing that community in the process.
"We have overcome our financial difficulties by doing what we do best: helping people."
Today, in addition to producing its regular line of products, the cafe's hard-working staff bakes more than 100 loaves of bread each day. In the course of these months of the pandemic, more than 8,000 loaves have been distributed to nearly 400 families. The cafe staff also receives bread to share with their own families, who number among the poorest in the region.
Upon learning about the program, one of the restaurants in Gyumri, known for its delicious fish, decided to assist Our Daily Bread with contributions of fish to benefit hungry families, many of whom depend entirely on Our Daily Bread as their primary source of food.
"We are provided with two to three loaves of bread on a daily basis and we spend what little money we have on other food items to keep our children healthy in these hard times. These two loaves of bread may mean nothing for many people, but not for us," says Ms. Mnoyan, as she cuts the hearty loaves for the day.
At first, the cafe undertook its work independently. Beneficiaries living close to the city center would come and pick up their own bread, whereas those living in the outskirts would have their bread delivered by social workers or drivers from the Aregak Center. However, an entire distribution network in the region has developed since.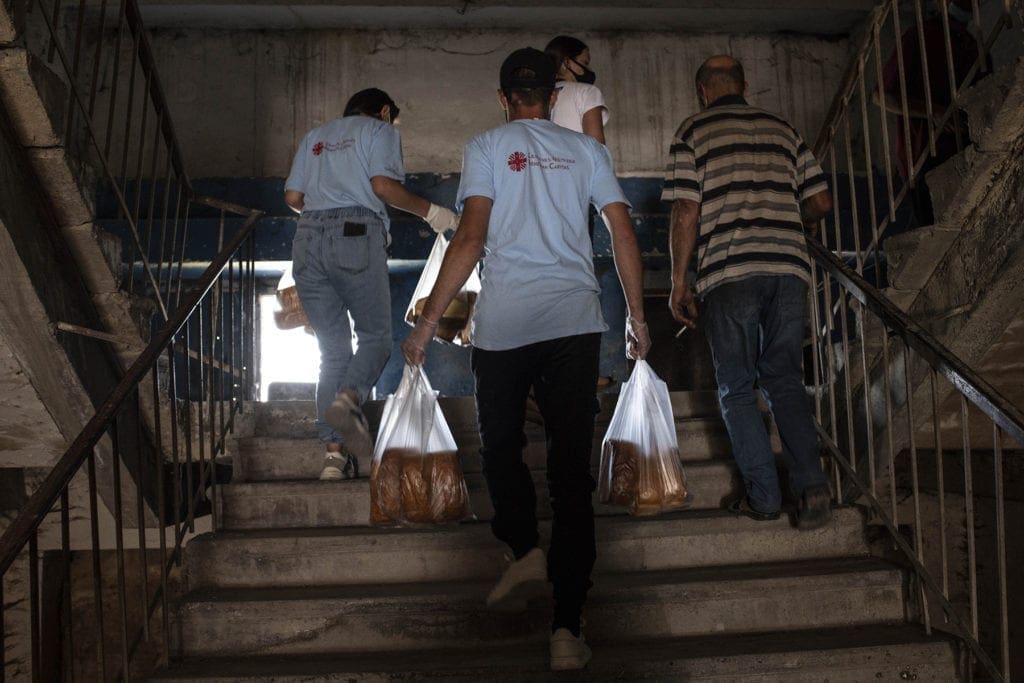 Forty-five-year-old Karen Manukyan, who heads the Armenian Missionary Association of America in Gyumri, says that as a result of a month of cooperation, 60 families received two to four loaves of bread daily, depending on the number of family members.
"The cafe staff quickly organizes the distribution work: They give us the packed loaves of bread and we only had to get to the destination. We do our work with love, and we are overjoyed when we see the beaming eyes of the children," she adds, acknowledging that there had been some progress in breaking the cycle of poverty in the Shirak region, but that the pandemic had stopped everything.
"The majority of men used to leave for seasonal work [mainly to Russia], however, they lost the chance this year due to the coronavirus. Many others used to drive a cab, but the demand has decreased. In short, poverty is again rising in the city so rapidly that a loaf of bread has become an essential staple for people."
Narine Mnatsakanyan, 47, a mother of five children, considers herself fortunate to have been accepted as a program beneficiary. She has health problems and cannot work; her husband, a seasonal worker, is likewise unemployed.
"It's very complicated. Days have passed when my children went to bed hungry," she says, her voice fading. "We live in hard and harsh times. This loaf of bread means a lot for our family … since we receive four loaves. If we have nothing else to eat, at least my children will not go to bed with an empty stomach."
Hovhannnes Kocharyan, 31, brings the bread to Mrs. Mnatsakanyan's family. He lost his job because of the pandemic, but keeps busy volunteering for Our Daily Bread, delivering loaves of bread from the cafe every day.
"We supply bread to the villages of the Shirak region, too," he says. "The number of families we visit on different days varies. Sometimes we visit as many as 30 homes a day. People are very dependent on this program. They are always looking forward to our visits and if we are late a bit, they call to check when we will be there.
"It might seem a tiny support, but people are very pleased and grateful," he says, adding with grief that the unemployment rate has reached alarming levels in the area and the number of families waiting for bread delivery is rapidly increasing.
"People have passed the word and many more people have begun to start applying for the program. The issue is more acute particularly in this period; you observe people and see that they used to live normally and make a living. However, they can't afford even a piece of bread due to unemployment."
Without hesitation, Mr. Kocharyan notes what makes him put aside his own problems and live for other people's concerns. "It's certainly belief. Christianity preaches love and urges us to spread love. These days, people need love and kindness. If we all try to do something within our grasp, our country will win. One flower doesn't make it spring; we need each other."
Mickael Sahakyan, 22, carefully pulls freshly baked bread out of the oven, packs it for a yet another family and gives it to suppliers. The face of the young man with Down syndrome becomes brighter and brighter with every delivery.
"People are in much need of this bread; they get happy when taking the bread and we get happy, too. I love my job very much; this place exudes love," says Mr. Sahakyan as he continues his work, which he says he missed when he was quarantined during the height of the pandemic in Armenia. Due to chronic heart issues, he had to remain home.
The young baker is one of the key figures for whom — or thanks to whom — this unique cafe was first opened, and he has become an integral part of the Emili Aregak Center family.
"Having worked in Emili Aregak with children and adolescents with disabilities for about ten years," says the director, Tigranuhi Hakobyan, "we realized we needed to create programs for the youth, since our beneficiaries didn't know what to do or where to work once they became young adults. For example, we helped Mickael … who had been our beneficiary for eight years, to apply to the vocational college where he majored in cooking. During that time, Mickael needed to do an internship as part of the course, for which he had applied to several companies. However, it was nearly impossible for a person with Down syndrome to find an internship in Gyumri, a place that has very few employment opportunities," she says.
"Mickael's applications were rejected, so we decided to provide him with a chance to do his practice in our center's kitchen."
Fate again smiled upon the young man when, during his internship in May 2016, a call for grants was announced in Armenia for small organizations to encourage the development of an entrepreneurial civil society.
"We had a number of discussions," recalls the director. "Since at the time there were very few bakeries in Gyumri we decided to create a bakery and cafe where our center's young people, and their mothers, could work and become more financially secure. Moreover, we had the opportunity to provide our mothers with opportunities to enhance their capacity, develop cooking skills and apply those practically."
Ms. Hakobyan notes that the program also contributes to the financial sustainability and diversity of resources of the Emili Aregak Center. She also adds that the center sponsors a therapeutic handicraft program, exhibiting those works in what is now the cafe.
"We thought, 'Why not use the cafe and display these handicrafts there?'
"We also cultivate herbs in our garden and have begun selling teas from what we harvest. These initiatives increase the skill sets of our youth and contribute to their further integration into society."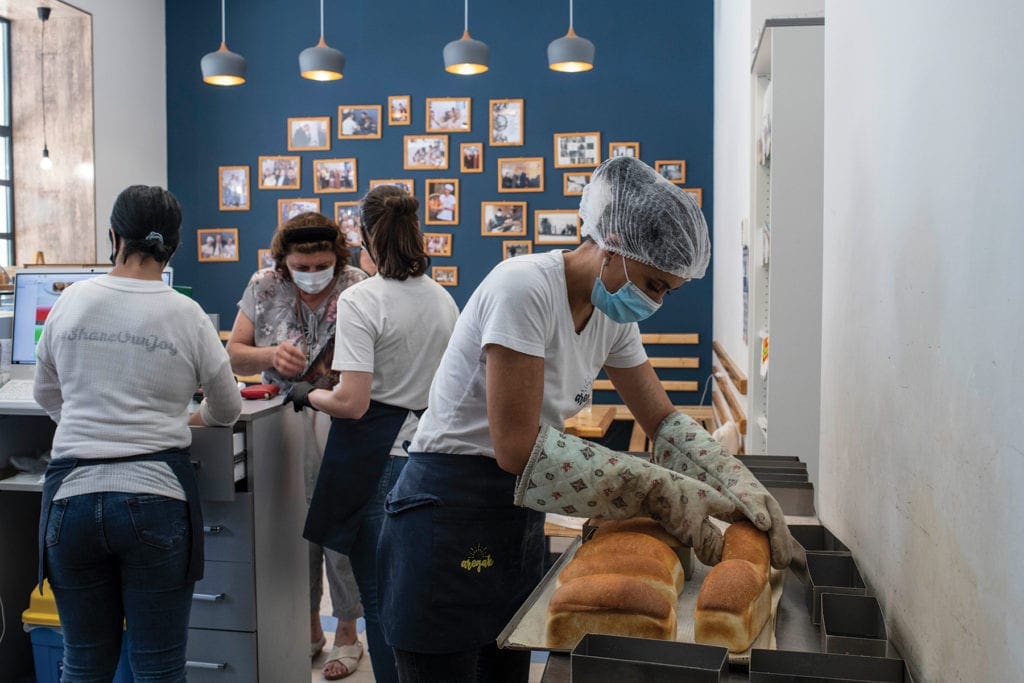 In a culture that has historically hidden children with special needs from public view, these programs "promote public awareness of the working capacity of people with disabilities," she says.
The cafe has been highly successful, exceeding expectations. Although the team was concerned the initiative would not be accepted by society, and some suggested they try not to call too much attention to it, the center's leaders decided to take a risk and vigorously promote the business created around Mr. Sahakyan.
"The initial stage was very hard: We changed the location three times. For us, it was of utmost importance to have a cafe in the heart of Gyumri, so that people would pass it by, whether they wanted to or not, and see the bakery, the cafe. We found a forgotten place in the city center; a dilapidated, dirty area with no existing road that you could walk across. However, a few months after we looked at the location, road reconstruction kicked off and now the street has become one of the most beautiful and favorite parts of the city," Ms. Hakobyan says.
Major investments have been made to renovate the facility and to purchase modern equipment built to accommodate the employees' special needs.
"With appropriate and sensible design, we have demonstrated that even a very old historical building can be completely adapted for people with disabilities — and our concern for people with special needs has become contagious," the director says with enthusiasm. "We coordinated a flash mob demonstrating how inconvenient the city streets are for people on crutches or in wheelchairs, which has prompted the municipality to make more of our streets accessible to all," she adds.
"Although we knew that it was a risky venture, we put all our love into this work. And Gyumri's residents have responded. This is not a simple job; but it is an opportunity for all."
Prior to the pandemic, the 750-square-foot cafe was open every day. The typical workday began at 5 a.m. and ended after its closure at 10 p.m. Much of the baking was accomplished by 8:30, just before opening; eight types of bread, 15 types of pastries, sandwiches and cakes were meticulously arranged in glass showcases. And fresh straw baskets were stacked for customers, who began to file through the cafe doors at 9.
The cafe — which serves a coffee so delicious the deputy prime minister declared he should travel daily to Gyumri for it — employed 16 people, six of whom have special needs: Down syndrome, autism, cerebral palsy. Other staff members include single mothers and others from the city's marginalized populations.
The staff of the cafe — conscious of the support of the Caritas and Emili Aregak Center — understand this is not just an ordinary business venture, but a family whose members treat one another with love.
This family proved its strength and dedication during the harshest days of the pandemic, overcoming challenges with dignity even as they had to chart another course.
"The pandemic made us step back from our mission and self-isolate," says its director.
"For so many years our goal has been to break out of isolation, to integrate people with special needs into society, but the pandemic forced us to reverse this course. In other words, we started moving in a completely different direction, deviating from our mission," she confesses. However, she adds: "We have overcome our financial problems; we have not closed, nor did we reduce salaries or accept funds from the state.
"We have independently navigated our ship through this storm, but enough is enough. We want to get back to our core mission of healing and helping our beneficiaries to get back to living life."
Yet in the meantime, the family of the Aregak Center and its cafe continue their outreach to the poorest of the poor in northwestern Armenia.
Hovhannes Margaryan, a 27-year-old waiter at the cafe, looks forward to getting back to work. Due to chronic health issues, he, too, had to remain home during the worst days of the pandemic. But his thoughts remain with the cafe, and sometimes he joins in the distribution of bread for the poor.
"We wear masks and help people," says the man of few words. "We deliver bread and get excited with people's joy.
"People need that loaf of bread. And I need to help them," he says.
"We work with love."
A communications specialist, Gohar Abrahamyan manages issues of justice and peace in the Caucasus for local and international media.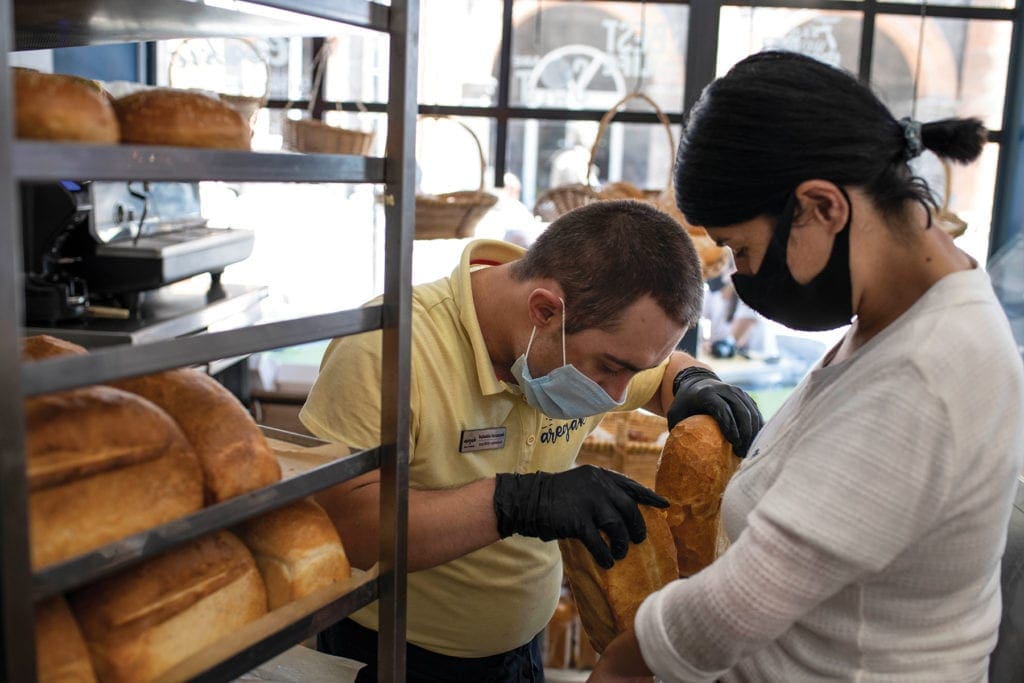 The CNEWA Connection
Tucked in the Caucasus Mountains, between Russia, Turkey and Iran, Armenia has struggled for decades to overcome disasters natural and societal.
Since gaining independence with the collapse of the Soviet Union, Armenia's small Catholic community has sought to address those challenges impacting the most vulnerable among the country's 2.9 million people. Working closely with the Armenian Catholic Ordinariate and Caritas Armenia, CNEWA helps provide winter kits to the elderly living in isolated villages and vast apartment complexes; support to child care programs, including summer camps; access to health care, especially for those living In the remote north; and assistance for those with special needs, such as help in building the Emil Aregak Center in Gyumri.
To learn how you can join CNEWA in helping the people of Armenia, call: 1-800-442-6392 (United States) or 1-866-322-4441 (Canada).