"We received a phone call one night from a kind man who was the agent in charge of rationing food for our district in Mosul; he informed us that ISIS instructed him to cut our food supply," says Majda Habib Girguis, describing the predicament her family faced after ISIS invaded their northern Iraqi hometown in June 2014.
"And then he gave a final warning: 'If you can leave, go!' "
So began their long nightmare, which to this day takes many twists and turns.
"In the morning, ISIS militants actually came to our door and told us: 'If you stay, you either pay protection money, or convert to Islam. If not, we will kill you!' " she says with a shudder.
"We knew if we stayed, we would 100 percent risk ISIS taking away our five daughters," she says, her eyes widening. The militant movement had abducted thousands of women and girls — including a large number of Yazidis and some Christians — who then endured rape and forced marriage.
Mrs. Girguis's Syriac Catholic family had already suffered the devastating trauma of having their eldest daughter, then-22-year-old Robila, kidnapped. The young woman and her brother were attacked in Mosul's marketplace — one of many acts of sectarian violence that shattered the calm the city had struggled to reclaim in the aftermath of the 2003 U.S.-led invasion of Iraq. Chaldean clerics were also murdered during those violent, turbulent years.
Robila was with her brother, Ruad, to buy some things in the market when Islamic militants assaulted them and took Robila away, the mother recounts, her eyes filled with tears.
"We tried in vain searching for her, posted information and her picture in the newspapers and throughout the governorate, but we have never found her. To this day, we don't know anything about her," she says.
Except some people said they saw the young woman with one of the ISIS men.
"When ISIS occupied the area, there was no Iraqi government presence. Some Muslim neighbors had asked about Robila and where she could possibly be. But no one could find her," says Mrs. Girguis's husband, Tareq Boutros Azza, his face betraying his sadness.
"Then, we received a letter in July 2014 with three bullets, threatening us to leave Mosul or 'we will kill you all.' And so, we left," he says.
"After that, someone saw a police circular of an Iraqi militant sporting a beard and headscarf — a wanted criminal. It is believed he was involved in their daughter's kidnapping. There was a police report calling for his arrest. It said he is affiliated with ISIS," Mrs. Girguis explains, but says there has been no further information about any arrest or Robila's whereabouts.
Robila's abduction cast a pall over the family, causing great heartbreak for them all. So the couple and their remaining six children fled Mosul, initially for Qaraqosh, known as the "Christian capital" of Iraq prior to ISIS' 2014 takeover. The town, about nine miles from the edge of Mosul, with its imposing Cathedral of the Immaculate Conception — dubbed the "Clock Church" — was where the family's historic roots lay.
Their Kurdish Muslim neighbors in Mosul gave Mrs. Girguis and her daughters black Islamic cloaks, known as abayas, and headscarves to wear for the journey to shield themselves from onlookers.
Nevertheless, on the way, they were stopped by ISIS militants at a checkpoint.
"It was extremely frightening to encounter ISIS fighters right before our eyes. It was a nightmare to experience this. We felt a lot of fear because these people are very dangerous," the mother says.
Because of the family's large size, they could not carry much for their escape and took only some money and their gold jewelry, used in the Middle East as a source of financial security against misfortune.
"The militants searched us and asked, 'Are you Christians?' And they robbed us of our gold, our money. Afterwards, they said, 'Ok, you go,' " Mr. Azza recounts.
"Father Emmanuel, our priest who knew us previously, rented a home for us in Qaraqosh, where we stayed for almost one month, until ISIS attacked and took over Qaraqosh," he said.
Qaraqosh had been a thriving Christian commercial town of some 50,000 people in the Nineveh Plain. ISIS damaged the famed bell tower of the Syriac Catholic Cathedral of the Immaculate Conception, decapitated its many statues, plundered it and finally set it ablaze. It was once Iraq's largest church, gathering more than 3,000 people for its Sunday liturgies.
ISIS destroyed and burned many homes and businesses in Qaraqosh. The town is now slowly rebuilding, following coordinated efforts to de-mine the land, removing undetonated explosives laid by the sect.
With the takeover of Qaraqosh in August 2014, the family once again fled to Erbil, the capital of Iraq's northern Kurdistan region. There, they sheltered at the Mar Elias Chaldean Catholic Church in the predominately Christian suburb of Ain Kawa.
"At that time, there were no tents," Mrs. Girguis explains. "We lived in the garden of the church."
But with hundreds of thousands of Iraqi Christians displaced in rapid succession, their numbers swelled to fill the church grounds that summer.
An ebullient Iraqi Chaldean Catholic cleric, the Rev. Douglas Bazi, took these hurting people under his wing and helped set up a camp for the internally displaced, where the family first stayed in a tent, and later a trailer.
"It was difficult. I got some clothes and I tried to make a small business selling them as a street vendor. One of my daughters, who speaks some English, worked as an employee in the health department," says Mr. Azza, describing a few of the family's attempts to make ends meet.
Meanwhile, Mrs. Girguis worked in the church kitchen, where they set up a shop cooking chicken. She also helped to wash clothes. "What were we to do? We needed an income. We had to care especially for our daughters," she explains.
"Living in a tent and then a trailer was very difficult for the girls as the only facilities were public toilets and showers that everyone had to use. It was a miserable life."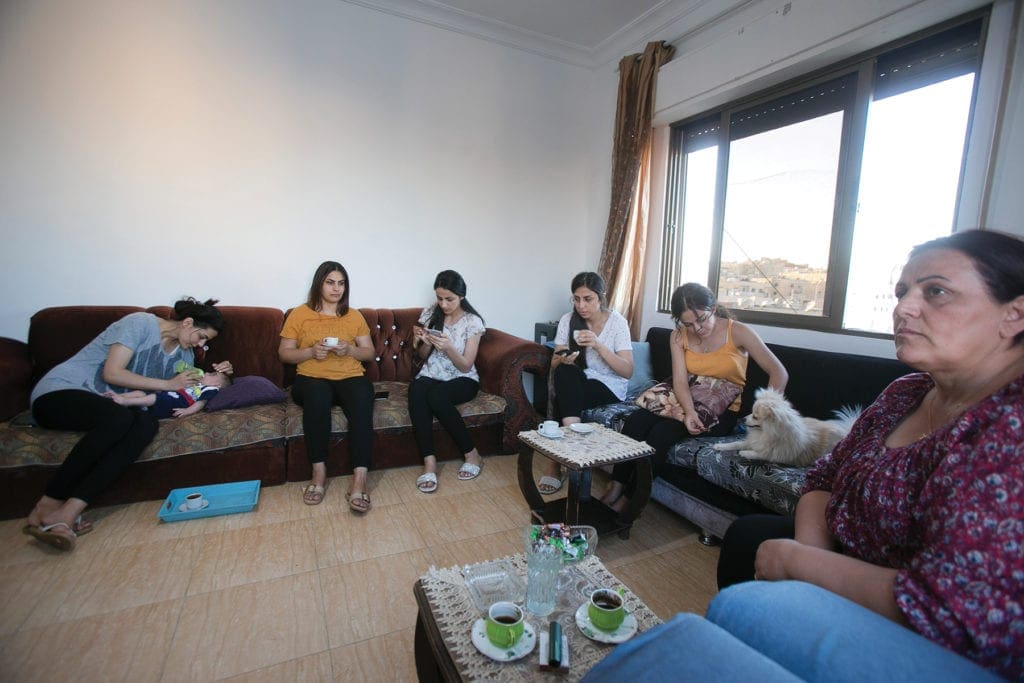 Some months afterwards, an organization came to the church offering to take some displaced Christian families to Nitra, the fifth-largest city in the Central European nation of Slovakia. They accepted.
Although the family had hoped this could be the start of a new life for everyone, it was not to last.
"The organization that brought us there told us that initially we would receive a stipend from the government and help from the church, including a food allowance. But this did not happen at all," explains Mr. Azza, his greying hair betraying the concerns he has had to bear for many years now.
"We attended language school, but there was nothing else," he says of the family's 11-month stay.
"We met the president of Slovakia and told him about the situation," Mrs. Girguis says. They told him their story and asked for the help that had been promised by the aid organization. But the president said that his own people are suffering from poverty and the kind of assistance they were hoping to receive could not be provided.
"We realized that the organization had lied to us," said Mrs. Girguis. "All of the 32 families, some 149 people, returned to northern Iraq, except for three families which stayed behind in Slovakia."
Deflated from their experience in Europe, the family arrived again in Erbil in late 2016, where they would remain for two and a half years.
"We started again from zero. We worked in Erbil to try to save some money to move to Jordan," says Mrs. Girguis. Their longer-term hope was to obtain refugee status from the United Nations, with the view of applying for resettlement in Australia, where they have close relatives.
In the meantime, their daughter who worked in a health facility in the northern Iraqi town of Gayyara received two threats against her.
"There was fighting between the Iraqi military and ISIS. Someone tried to follow her home. Another person threatened her and told her to leave, otherwise she would be killed," Mr. Azza says.
It was during this period — nearly a year, beginning in October 2016 — that the offensive was underway to liberate Mosul and the Nineveh Plain from ISIS control. The Iraqi army fought along with largely Shiite Muslim paramilitary forces that also included some Sunni Muslims, Christians and other ethnic and religious groups. In addition, Kurdish Peshmerga fighters carried out coordinated operations to protect the northern territories.
Left largely to fend for itself, northern Iraq's Christian community undertook reconstruction and rehabilitation of the infrastructure, houses, businesses and schools of the towns of the Nineveh Plain destroyed by ISIS with financial assistance from Hungary and the United States. CNEWA and other church organizations and hierarchs, such as Chaldean Catholic Archbishop Bashar Warda of Erbil and Archimandrite Emanuel Youkhana of the Church of the East, proved instrumental in rebuilding efforts.
Still, "circumstances for traumatized religious and ethnic minorities remain dire," according to the Washington, D.C.-based United States Institute for Peace. "Thousands remain displaced, unable or unwilling to return to their homes in Nineveh province amid ongoing security challenges and other barriers to their safe return." The organization points to the country's financial crisis and renewed threats of an ISIS resurgence as obstacles to improved stability.
Chaldean Catholic Archbishop Yousif Mirkis of Kirkuk and Sulaimaniyah estimates that between "40 and 45 percent of the Christians have returned to some of their ancestral villages on the Nineveh Plains." Some 102,000 Christians resided there before the ISIS invasion in 2014. But observers say their numbers have dwindled to around 36,000 and could further plummet.
International lawyer Stephen Rasche, who has worked alongside Archbishop Bashar to shore up the Christian community in northern Iraq, said it has been difficult for Westerners to understand the deep trauma Christians in Iraq have experienced, in remarks made earlier this year to the Washington, D.C.-based Religious Freedom Institute.
Mr. Rasche says the ISIS assault and occupation of their land was the latest terrible blow Christians have endured in Iraq, where "they have been systematically persecuted for decades and centuries. The cumulative effect of that is that they've been ground down to this remnant population that has just been brutalized."
Iraq's Chaldean patriarch, Cardinal Louis Raphael Sako, admits Christians are struggling after the ISIS destruction of their ancestral lands and the encroachment of Iranian-backed Shiite militias on their towns. He has repeatedly called on Iraq's government to stop inflaming sectarian tensions and institute rights and respect for all of Iraq's religious communities based on citizenship, rather than ethnic or religious identity.
Iraq's new Prime Minister, Mustafa al Kazemi, met with the cardinal to discuss how the government could address challenges facing the country.
"The church supports Al Kazemi's steps toward achieving security and stability throughout Iraq," Cardinal Sako said after their talks in August. "Christians are proud of their Iraqi identity, and they feel more reassured, in light of the serious handling of the Al Kazemi government with the Christian file."
However, given their own personal experiences, not all Iraqi Christians feel there is a place for them in Iraq at this time.
"We can't go back to Iraq and we can't even live in Mosul or Qaraqosh because the situation there is very bad, as the whole world knows," Mrs. Girguis says. "We are tired and fed up with Iraq. Psychologically, we are destroyed, all of us."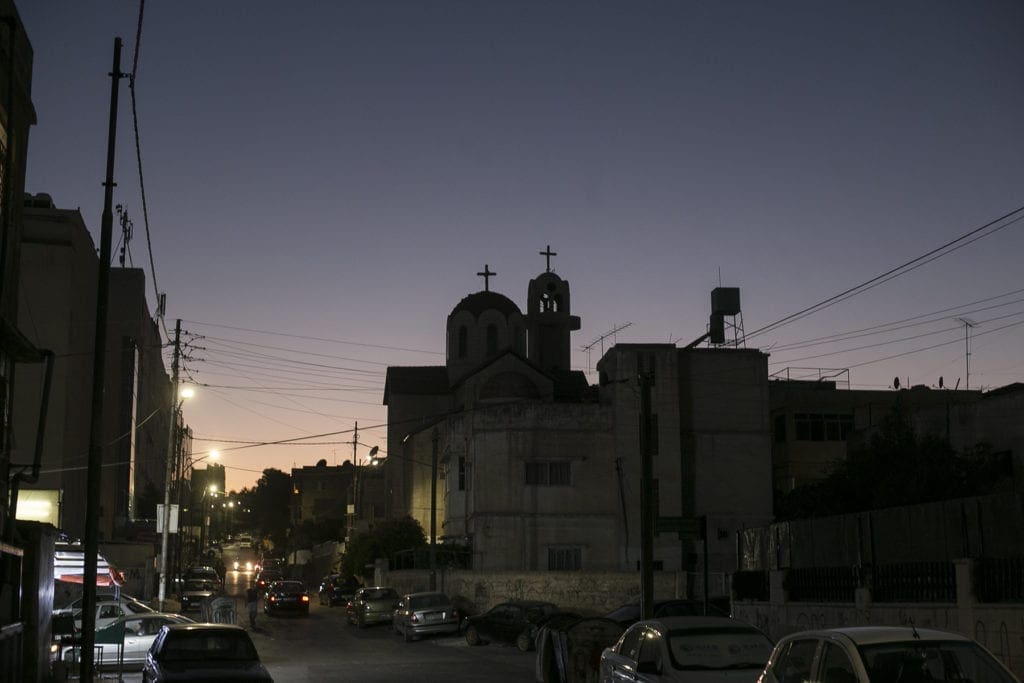 They needed to pull up stakes once again — but this time with even less money — for the journey to Amman, the Jordanian capital. Under international law, individuals must cross a border into another country to be recognized as a refugee.
"We left Erbil for Amman in September 2019 with little money," Mrs. Girguis explains. For that reason, the family had to travel overland by vehicles for some 20 hours, unable to afford plane tickets.
But in Jordan, they have encountered obstacles faced by all Iraqis who have taken refuge there; unlike their Syrian counterparts, Iraqi refugees are not permitted to work legally in Jordan.
"If it were possible to work here, that would be good," Mr. Azza said, as the family spoke from their apartment in the Al Hashemi al Shamali district, where tens of thousands of Iraqi and Syrian refugees shelter in this crowded, impoverished area of Amman. "But legal work is not permitted, and for that reason life is really difficult.
"What can we do? We are in this situation and have to deal with everything."
"Paying rent is a tough problem for us," Mrs. Girguis says. "In 2014, when large numbers of Iraqi refugees escaped to Jordan, there were many organizations able to support them. But now, that's not the case."
International funds have been depleted, suffering donor fatigue over the long years — and more recently, economies have been wracked by COVID-19. Still, severe needs exist in the Iraqi refugee community.
"We are currently a family of seven persons, as one of our daughters got married here to an Iraqi man," Mrs. Girguis says. But even with their needs diminished, it remains difficult to eke out a life.
"Earning enough to pay the rent is a challenge. I go to work cleaning homes just to try to collect rent money for this apartment. I receive about $20 for ten hours of work."
The only material support the family has received has been seven blankets and a kerosene heater last winter.
"Even this is not sufficient for the bitter cold winters in Jordan," says Iraqi Syriac Catholic seminarian Yousif Barmious Ishaq, who also sought refuge in Jordan three years ago. "The limestone and concrete buildings have no heating system in place."
The members of the family, as with other Iraqi refugees, feel as if their lives are on hold, forgotten by the international community.
"I'm engaged to an Iraqi refugee girl, but I cannot afford to get married," says Ruad, now 29.
And although the family has an Australian file number for a resettlement request, there has been no news from authorities due to the coronavirus pandemic. Even after this is resolved, a positive response is not assured.
"Honestly, our children's spirits are destroyed. They feel that they cannot think about anything. It's impossible to plan for anything," says Mrs. Girguis. "A few days ago, we had problems at home. My son said, 'OK, we'll go back to Iraq.' " An argument ensued.
"They cannot dare to think about possibilities, let alone the future. Imagine something simple, such as the girls would like some clothes. But we cannot buy anything. We don't have a real income," the mother says.
"I tell them, 'Please be patient, girls; we will go to Australia and God will open some roads ahead for us.' But how many times can I tell them the same thing? It's so difficult."
In these times of struggle and stagnation, the family depends upon its faith to persist.
"Faith in Jesus Christ is ever present to give us patience. We must say, 'Praise God, for every circumstance,' " Mrs. Girguis says. "When we pray or go to Mass, we feel more relaxed, peaceful and we receive more comfort. This is all we can do, no more than this.
"We cannot just ask, ask, ask. We are lost here. Although we are in need and we are hungry, we feel ashamed to ask for help, to ask for some money," she says.
"In the past, before ISIS, when we lived and worked in Iraq, we were very generous. Our home was always open for visitors from everywhere. We welcomed our relatives, our friends, and others by hosting meals. But here our circumstances are very different," Mrs. Girguis says, her voice trailing off.
"We thank God, that he has preserved our children, our girls, and our faith in him, despite ISIS. This is the best thing that happened for us," she concludes.
As for what the future holds, the mother cannot even bring herself to speculate.
"To be honest, at this time, we have no hopes or dreams. If we cannot be stable in one country, and feel that it is our home, it's really impossible to have dreams. We had dreams before, but now there are no dreams.
"There is no future at this moment; and we don't know what to do. Two of our daughters had their education stopped because of the upheaval. Ruad's fiancée doesn't know whether to stay in Jordan or return to Iraq. Our situation is unstable here," she says.
"If we can go to Australia, we can begin a new life and discuss our future because we will feel stable and know that, at last, this is our country. We all are looking for this hope and a home for our children.
"We are looking for a home, and this is our big problem."
Based in the Middle East, Dale Gavlak has reported for CNEWA from Iraq, Egypt and Jordan.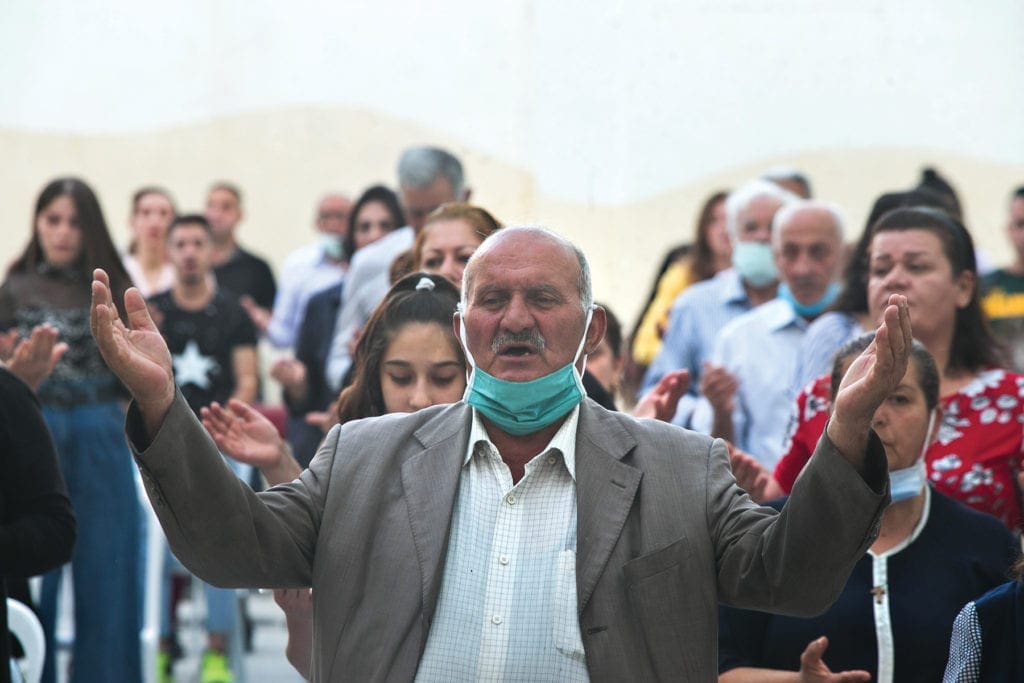 The CNEWA Connection
Hundreds of thousands of Iraqi families, many of them Christian, have fled to neighboring Jordan since the first U.S.-led invasion of Iraq in 1991. Some have remained in the kingdom; others have returned to their homeland. Most Christian Iraqi refugees, however, have sought permanent refuge elsewhere. Once a bustling community of 1.3 million strong, Iraq's Christians now number fewer than 100,000 people, most of them anxious about their future.
Whether rushing emergency supplies to displaced communities in Iraqi Kurdistan in the immediate aftermath of the first Persian Gulf War or providing food assistance, shelter, bedding and counseling to families escaping ISIS in 2014, CNEWA has long collected resources and partnered with the local church to help families cope with the misery of war and displacement.
To help CNEWA assist displaced Iraqi Christian families, call: 1-800-442-6392 (United States) or 1-866-322-4441 (Canada).