On a drizzly monsoon morning in August, the Rev. Justin Kolamkanny greets his guests in front of the parish church in the small town of Vadakkencherry. Opposite the imposing church at the center of the village sits the parish grade school. But what should be a busy, noisy morning is, in fact, eerily quiet. The skies are blue, and it is breezy and pleasant in this part of the Palakkad district in the southern Indian state of Kerala.
There is not a soul in sight; these are COVID times.
Father Kolamkanny and his team from the People's Service Society Palakkad (P.S.S.P.) have driven to the village to deliver supplies to families who have lost their livelihoods due to the coronavirus. A social service initiative of the Syro-Malabar Catholic Eparchy of Palakkad, P.S.S.P. works to empower communities in central Kerala. The society provides know-how and skills training in farming, animal husbandry and carpentry to help men and women secure financial independence. Today, however, Father Kolamkanny introduces P.S.S.P.'s new venture, which he calls "Palakkad Samaritans."
"It's a group of people, priests, nuns and volunteers who come out to help if someone in the eparchy dies of the coronavirus," he says.
"Volunteers are given proper health and safety training, working with government health officials. We want to be able to provide families some comfort of knowing that there are people to help, if they need it."
And the need is growing, as the people of this region face a world suddenly changed. With few resources and fewer jobs during this time of pandemic, they are turning more than ever to each other and to the local church.
Located in the high ranges in the middle of a forest, the village of Ramdampuzha lies along the banks of a river. While beautiful, the river is feisty in the rainy season. Jomol V.K., 19, lives along the river with her mother, grandparents and her younger brother.
"During the day, if the water levels rise, we can run to safety," she says. "The nights are scary. If you're fast asleep, you don't know when the water will flood your house."
Jomol's mother, Kochu Theresia, is the only member of the family who works and earns wages. She takes on any job that comes her way, from tapping rubber trees to chopping wood in the forest. She earns about $4 for a 10-hour work day.
"My mother works every single day of the week, if she can," Jomol says. "But there's never enough money." Work and money has been scarce since the pandemic arrived in India earlier this spring. Today, she is out working for the first time in about four months.
Jomol's grandfather, 80-year-old Peter Pathurose Pathiyan, receives a pension of $20 a month from the government, while his wife, 70-year-old Rosy, receives about $16 a month.
"My father left us when I was 3. We've had absolutely no contact since," the young woman says from her house, which the local parish helped build.
"Even though it floods all the time, we have nowhere else to go." She shares that she should be in school, but school is closed because of the pandemic. The village does not have access to the internet, so she watches television as a local channel broadcasts class work for homebound students.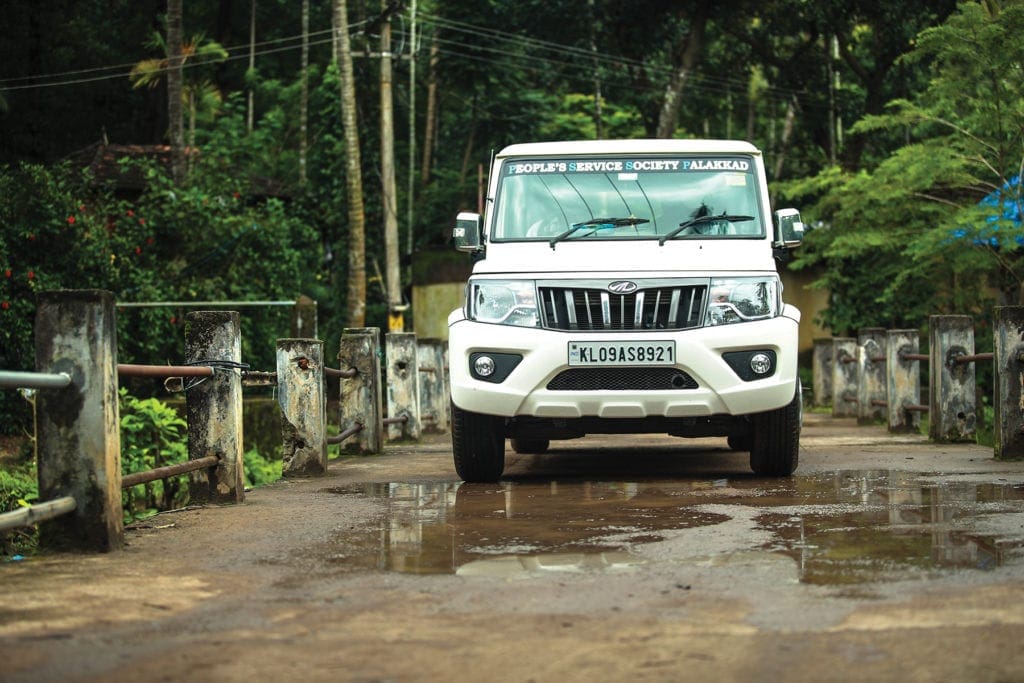 Further up from Jomol and her family, 50-year-old Lucy Jose lives with her daughter Siji, 25. Tall majestic teak trees surround their home. Siji worked as a supervisor in a women's hostel in the city of Trichur, but she has been home for the last five months, the hostel closed.
"We live on forest land," Lucy says. "There are no documents to prove this house is ours, even though my family has lived here for 40 years."
Father Kolamkanny explains that most of the people in this village and its neighboring areas have migrated from cities, such as Palai, Kottayam and Kanjirapally.
"The poverty there brought them to work and settle here in these villages," he says. "Even though they live in these houses, there are no documents to prove their ownership. They can be asked to leave at any time."
Father Kolamkanny and his assistant from the social service society, the Rev. Sebin Urukuzhiyil, are no strangers to the village, as they work with its people regularly.
"The lockdown really affected the livelihood of people here," Father Urukuzhiyil says. "Everybody who works, men and women, is paid daily wages. If there's no work, they don't earn. And if they don't earn, there's no food to put on the table."
Going house to house, the priests distribute emergency kits, thanks to the generosity of CNEWA and its donors, and will help feed all the villagers for about three weeks.
"We have rice, lentils, flour, biscuits, onions, sugar, spices, oil, washing soap, washing powder, sanitizers and masks in this kit," Father Kolamkanny says. "For Onam, a festival celebrated by everyone in Kerala irrespective of their religion, the state government will provide food kits, too. That should help sustain these families for a while," he adds.
The government of Kerala reported the first case of COVID-19 in India on 30 January. And until the end of May, the state seemed to have contained the rate of infection; officials reported only three deaths. Since June, however, the number of infections has risen steadily, largely due to the return of infected expatriates leaving the Middle East and those working in other states of the country. This influx of returnees — whose high salaries contribute significantly to Kerala's economy — is expected to continue until December.
Global health officials have praised Kerala's efforts to contain the virus. While across India the recommended quarantine period is 14 days, Kerala's health officials require a 28-day quarantine period. The state has also opened call centers to monitor the mental health of those who are homebound. As Kerala has the highest literacy rate in India, the state has had success communicating its protocols, which are more stringent than in many other parts of the country, and include social distancing and the regular use of masks and sanitizers.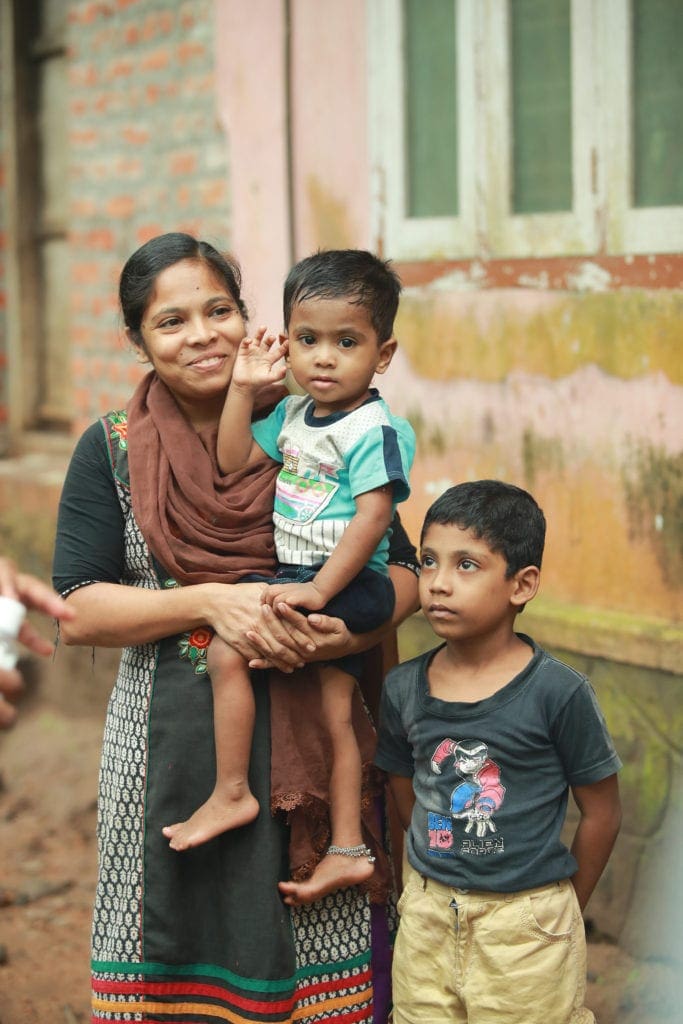 In addition to the pandemic, officials in Kerala have been preparing for what is expected to be an unusually wet monsoon season. In the last few years, incessant rains have triggered catastrophic flooding and landslides — the worst in a century — that have killed hundreds of people, washed away or buried homes and livestock and destroyed livelihoods for thousands more.
And then there is the economy. The lockdown to contain COVID-19, which extended in Kerala from 25 March to 3 May, resulted in billions of dollars lost, hitting hardest the self-employed and day laborers.
Lissy Joey Pakkathukunnel is the only breadwinner in her family. The 49-year-old mother of five lives in the village with her two sons, 17-year-old Jobin and 11-year-old Joey. Her sister Thankamma also lives with her. A day laborer, Ms. Pakkathukunnel has not worked in months and there is no social safety net to help her survive.
"Since I haven't been able to work, we have to rely on aid kits," she says.
Ms. Pakkathukunnel's husband left her ten years ago. "He was an alcoholic and abusive," she says. She reared her children on her own. Her oldest son is a driver in Trichur. One daughter is married and another is a seamstress in another town. The younger boys live at home and attend school, when it is open.
"I lead my life according to the Gospel," the mother says. "I live for the day. My faith in God gets me through. I believe God has the best plan for me and so I lead a peaceful life and don't stress."
She also does not dwell on her suffering.
"What's the point in talking about my sorrows? We all have our cross to bear," she says. "I believe in getting on with life; going to work and making sure my children are okay."
Father Kolamkanny explains that people in these villages — Syro-Malabar Catholics — maintain a devotion to the Blessed Virgin Mary. "Prayer is their main strength. They recite the rosary every day, their belief in Mary as an intercessor, that she will get them through every obstacle, is very strong," he adds.
The parish and the community in this small village possess a strong bond.
"The church is always there for them. And people also help each other a lot," says Father Urukuzhiyil, who hails from the area. "When someone is sick and they need help, the parish and the community are the ones they rely on for support and survival."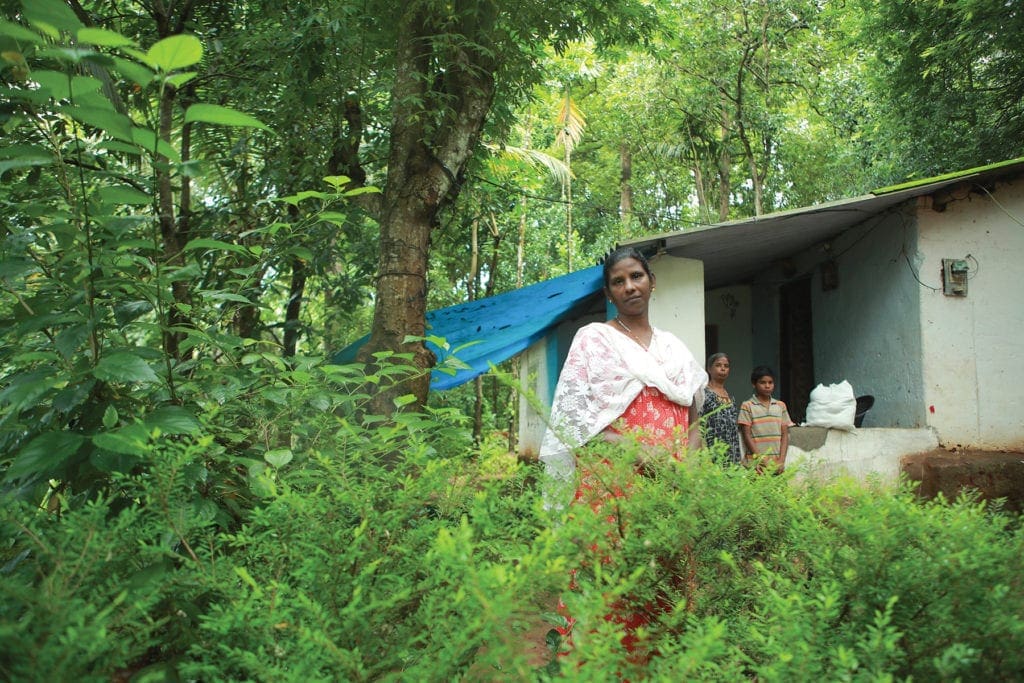 When Bincy Naiju, her husband and two children had nowhere to go after their house collapsed during the heavy rains last year, it was a fellow parishioner who came to their rescue. Joey Thomas, who owns 15 acres of a rubber plantation, gave them his annex. There, they set up home temporarily.
"This is how we show up for each other," Mrs. Naiju says. "We live here rent free and Joey has said we can stay until our own house is ready for us to move back," she says.
Mrs. Naiju is an economics graduate. She used to teach children before the pandemic. "But since there's no Wi-Fi, I haven't been able to teach online and no one's allowed to come here," she says. She has been supplementing her income by stitching clothing for women.
Mr. Thomas is also the headmaster of the parish's Sunday catechetical program. When someone needs to go to the hospital, it is he who takes them in his van. "This is how we are as a community. This is a small parish and we understand each other's struggles," he says.
Mr. Thomas has had his own problems running the estate.
"This is forest land," he says. "That means we have animals — elephants, deer, boar — coming down from the mountains pretty much any time of day or night to look for food."
It is latex tapping season on the estate. Tree trunks are cut with a scalpel, and coconut shells tied to the trunk capture the white liquid from which rubber is made.
"Elephants and deer love the sweetness of the latex. So they come down and trample all over the plantation," he says.
Elephants, deer and monkeys are protected by law in India. Any act that endangers these animals, kills or injures them is punishable under the Wildlife Protection Act 1972 and carries a jail term as well as a fine.
"Some people in the nearby villages grow pineapple and jackfruit. Elephants can smell them a mile off. They come down from the hills to eat these and have trampled and destroyed entire plantations," he says.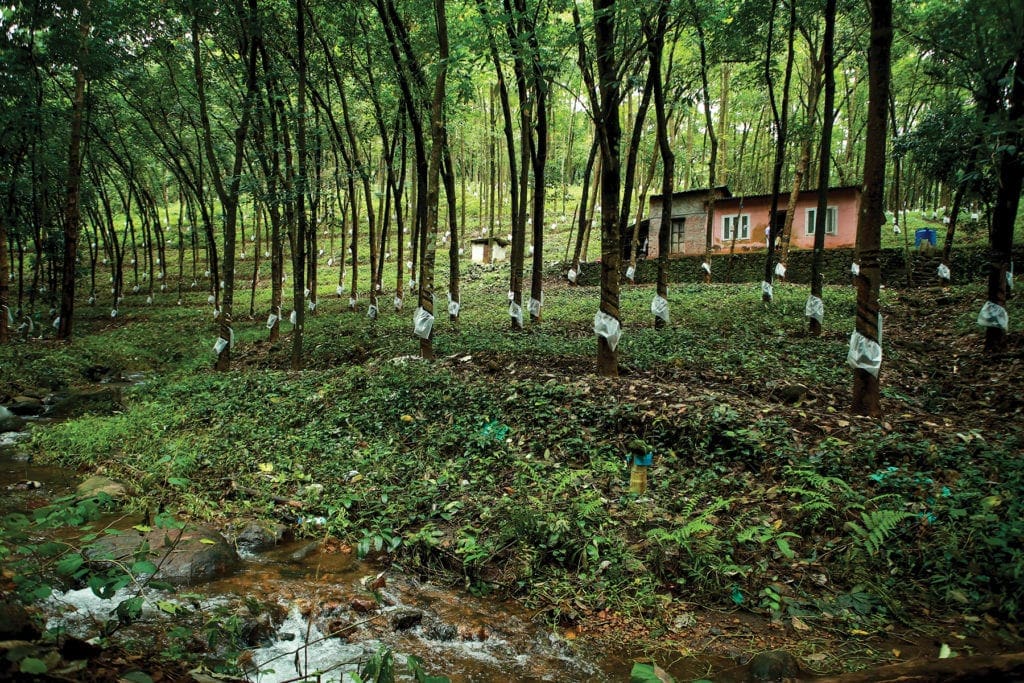 Father Kolamkanny tells us of a parishioner who planted a thousand rubber trees. "A herd of elephants came down and destroyed 900 of them because they wanted the latex," he says. "He had put everything into the estate. He was suicidal and we had to be there with him, listening and counseling."
Stephan Thomson Thunduvila built his own home.
"But I can't work anymore since I hurt my arm," says the mason.
"Now, it hurts all the time."
Mr. Thunduvila's family is going through a financial crisis. The only earning member of the family is his son Sijo, who works in a factory in Cochin. His younger son, Justin, who lives at home with his parents, lost his job when the lockdown came into force in March. He has not been able to find work since.
"My wife, Mariamma, and I both have health problems," he says. "The nearest hospital is six miles away. There's no public transport, so we can't get to it. We've been suffering," he says.
But Mr. Thunduvila's faith in God is what carries him through these difficult times.
"Jesus and Mother Mary look out for me and my family. I have immense faith in him," he says.
"With his grace I have made it until now and I know I will in the future."
Anubha George is a former BBC editor and writes on Kerala culture. Based in Cochin, her work has been published in Scroll.in and The Good Men Project, among others. She also teaches journalism at India's leading media schools.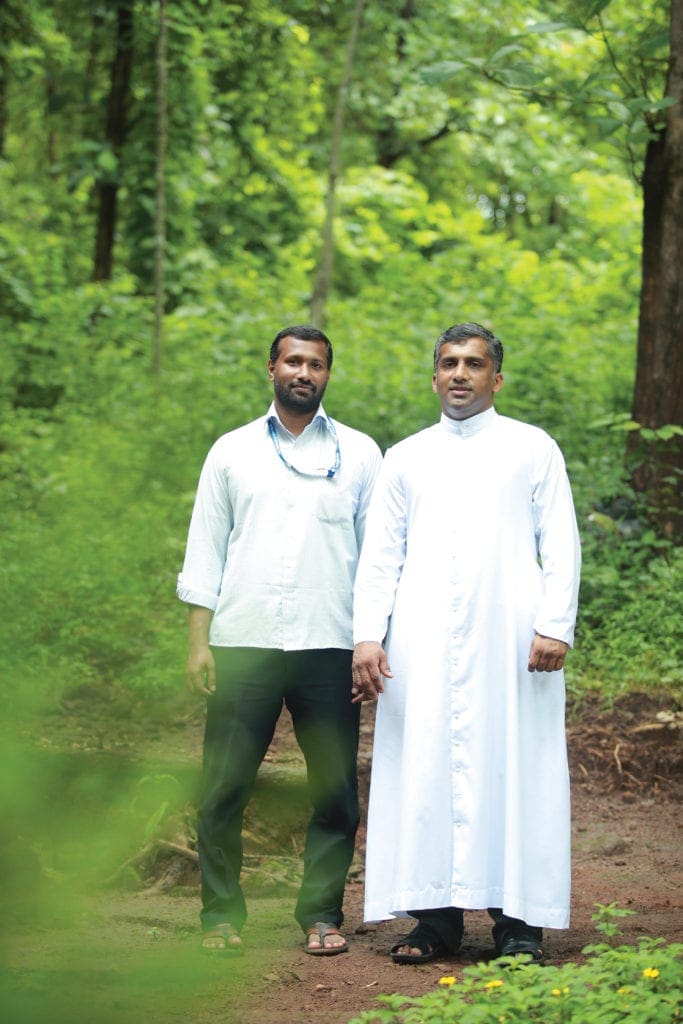 The CNEWA Connection
India's dynamic Syro-Malabar and Syro-Malankara Catholic churches are models of service that reach out to the most vulnerable and marginalized throughout the subcontinent. As witnesses of the Gospel, sisters, priests and lay people reach out to the forgotten, feed the hungry, heal the sick and lift the lowly from their poverty.
CNEWA has long partnered with India's pioneering communities of men and women religious and eparchial social service societies as they address abject poverty, alcoholism, H.I.V. and AIDS, leprosy, emotional and physical special needs, natural disasters and pandemics.
To support the compelling apostolates of the Eastern churches in India, call: 1-800-442-6392 (United States) or 1-866-322-4441 (Canada).