Valentina Semenyakin did not want to leave her home in Zaporizhzhia, southeastern Ukraine.
For four days she deliberated her family's request to flee, torn between leaving behind her elderly mother and the growing risk to her son's safety, as Russian shelling reached closer to her home.
The family lived on the eighth floor of an apartment building, and the elevator was out of service since the war began, rendering movement difficult.
"When the Russians started bombing, we heard explosions; there is a military base near our house," explains Mrs. Semenyakin.
The Semenyakins' apartment is close to Europe's largest nuclear power station near Zaporizhzhia, which was seized during the first week of the invasion by Russian forces, advancing northward from Crimea. Eight days later, after sleepless nights marked by the piercing sound of air raid sirens and distant booms, Mrs. Semenyakin gave in to her husband and son's wish.
"It was really scary," she says. "We finally decided to move out; we had no other option."
The situation was so anxiety inducing that her 32-year-old son, Petr, who has cerebral palsy, developed rashes on his hands. A doctor once advised him to avoid stress, but that was before his country was engulfed in a war, and he and his family became refugees in Poland.
For 750 miles, Petr sat in the backseat the family car as his father drove them across Ukraine. The long journey aggravated Petr's cerebral palsy and caused his leg and arm muscles to seize up.
Petr now sits next to his 55-year-old mother in the 72-room Rehabilitation Center of Blessed Sister Josaphata, a care home for the elderly and disabled, run by 10 sisters of the Sisters Servants of Mary Immaculate, a congregation of Ukrainian Greek Catholic religious women in Przemyśl, Poland, where he and his parents have sought refuge.
In the calm atmosphere nurtured by the sisters, the mother and son reflect on their luck at being in the hands of Sister Anna Drozd, the center's director. For the past three weeks, they have been recuperating. Most importantly, Petr has been able to restart his vital physiotherapy sessions, which soothe and relax his muscles.
While Mrs. Semenyakin repeatedly stresses her gratitude to the "angelic" sisters, Petr speaks candidly about the consequences of the war on the well-being of people with disabilities. Before fleeing their home, he had been unable to go outside for two weeks or have therapy sessions, which worsened his condition and sometimes left him in pain.
"I constantly need a massage," Petr explains. "I need therapeutic exercises at least two times a year, but we can't afford even once a year. The war is a catastrophe for disabled people, they are isolated."
Although the family feels at ease for the first time in weeks, remnants of their ordeal remain. Mrs. Semenyakin lifts her son's arm to reveal his red, sore palms and peeling skin, a physical sign of the mental torment of the war.
The family is one of many to cross from east to west, fleeing Russia's war on Ukraine. To date, the war has caused at least 10 million Ukrainians to be displaced inside and outside the country, triggering a humanitarian crisis in Eastern Europe. For the 10 percent of those displaced and refugees who are disabled, it has caused untold anxiety and disruption for them and their families.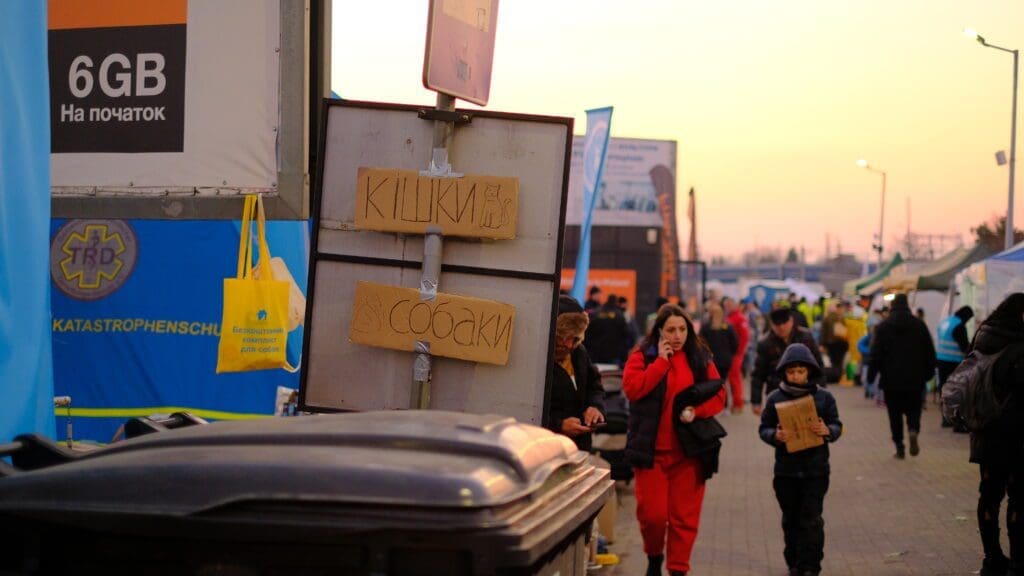 However, many people with disabilities are not able to leave Ukraine, nor are they able to reach underground bomb shelters if they stay. Petr said he and his parents, when still in Ukraine, resorted to taking cover in the corridor of their apartment.
For those with disabilities who have fled, the prospect of staying at a refugee center, on a camp bed, sandwiched alongside tens of others, where bathroom facilities are limited, is unrealistic.
"Sister Anna assists us, and we see a doctor here, and hydrotherapy sessions are constantly offered," Mrs. Semenyakin says. "Every day we go to the gym, where specialists work with Petr. We are really lucky to be here."
The family is among a vulnerable new wave of refugees arriving in Poland, with no plans or contacts, who are completely dependent on the local community and church organizations.
"There are completely helpless people, who do not know anyone and have never left Ukraine before," Sister Anna says.
Sister Anna, a child of Ukrainian parents, finds her strength during this time through the help of God.
"Humans by themselves would not be able to cope with this," she says.
Like millions of others, Petr and his parents have no idea when they will be able to return home. But in some ways, for Petr, life outside a country like Ukraine — where infrastructure for the disabled is poor and discrimination widespread — could be a vital step for his cerebral palsy.
"One of my friends is ready to help these people" in a show of the widespread goodwill the crisis has ignited across Europe, says Sister Anna. "In Germany, we are looking for an appropriate center with necessary rehabilitation for Petr and a place for his parents to live."
CNEWA supports the work of the Ukrainian Greek Catholic Archeparchy of Przemyśl, Poland, highlighted above. To support this work, go to: https://cnewa.org/campaigns/ukraine/
---
Rosabel Crean is a British freelance journalist reporting from Poland.